Despite the markets being in a downward trend, Shiba Inu continues its popularity stride. Over the last month, the popular cryptocurrency has attracted over 30,000 investors as interest in digital assets has resurfaced.
According to CoinMarketCap figures, there were 1,139,421 token holders on April 27 compared to 1,169,989 on May 26, showing a total gain of 30,568 over this time period.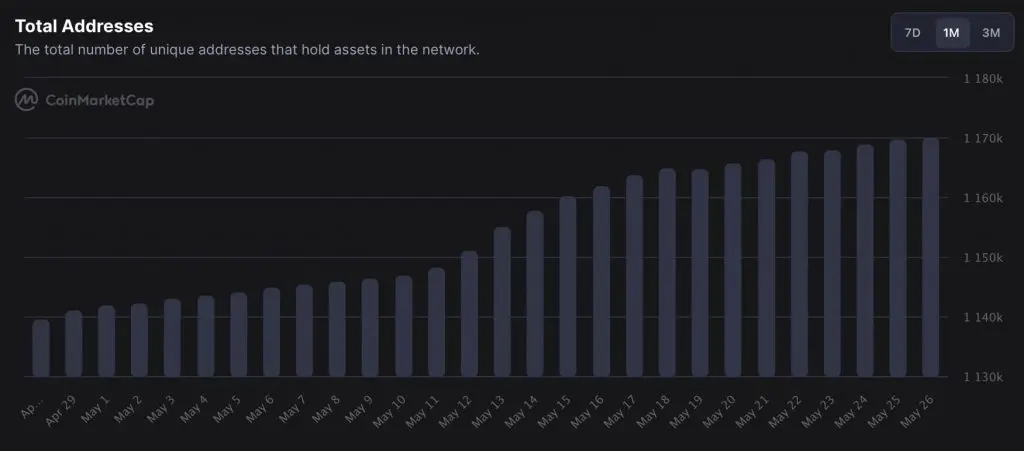 Moreover, Shiba Inu recorded 15,805 new holder addresses between April 10th and May 10th, according to CoinMarketCap statistics.
On March 17, the total number of unique addresses on the network holding Shiba Inu dropped dramatically, resulting in a loss of 32,832 holders in a single day. The overall number of unique addresses has been continuously growing prior to this.
What's pushing Shiba Inu holders?
Shiba Inu is without a doubt one of the most popular crypto projects out there. The token has constantly been one of the most talked-about cryptos on social media.
SHIB seems to be defying the market trends. Despite the crash, the popular coin is seeing a record number of new holders. This can be attributed to the immense popularity that the project enjoys on social media. Shiba Inu fans, or the Shib Army, have never failed to spread awareness about the project, at any given time.
Additionally, SHIB has enjoyed a plethora of collaborations that has vastly expanded its reach. Recently, Shytoshi Kusama, lead developer at Shiba Inu, revealed that the project might have a collaboration with a popular energy drink company, RedBull.
It was recently revealed that SHIB would now be accepted on the Lavu app, thanks to their collaboration with Verifone. Lavu has thousands of restaurants listed on the application, spread over 65 countries. Moreover, Verifone claims to have over 35 million devices registered across 150 countries.
At press time, SHIB was trading at $0.00001104, down by 5.3%.