The crypto market has been quite volatile over the last couple of weeks. Abrupt yet dainty surges and falls have left the community wanting more. Among the affected groups, the Shiba Inu [SHIB] community has faced significant losses. Data provided by IntoTheBlock reveals that a staggering 81% of SHIB holders are currently experiencing losses. Only 15% have managed to achieve profits. This data highlights the challenging situation faced by a number of SHIB investors during this period.
Amidst the ongoing trend of losses, the community holds onto the hope of brighter days ahead. This optimism was recently reinforced by PricePredictions, a prominent crypto monitoring and price prediction platform. According to their analysis, Shiba Inu is anticipated to close the month of May on a positive and promising note.
Based on the predictions generated by the machine learning algorithm, it is anticipated that Shiba Inu will have an estimated price of approximately $0.000092 by May 31, 2023. It should be noted that several indicators are employed by the algorithm to predict the price of the meme coin. This includes but is not limited to the moving average convergence divergence [MACD], average true range [ATR], relative strength index [RSI], and others.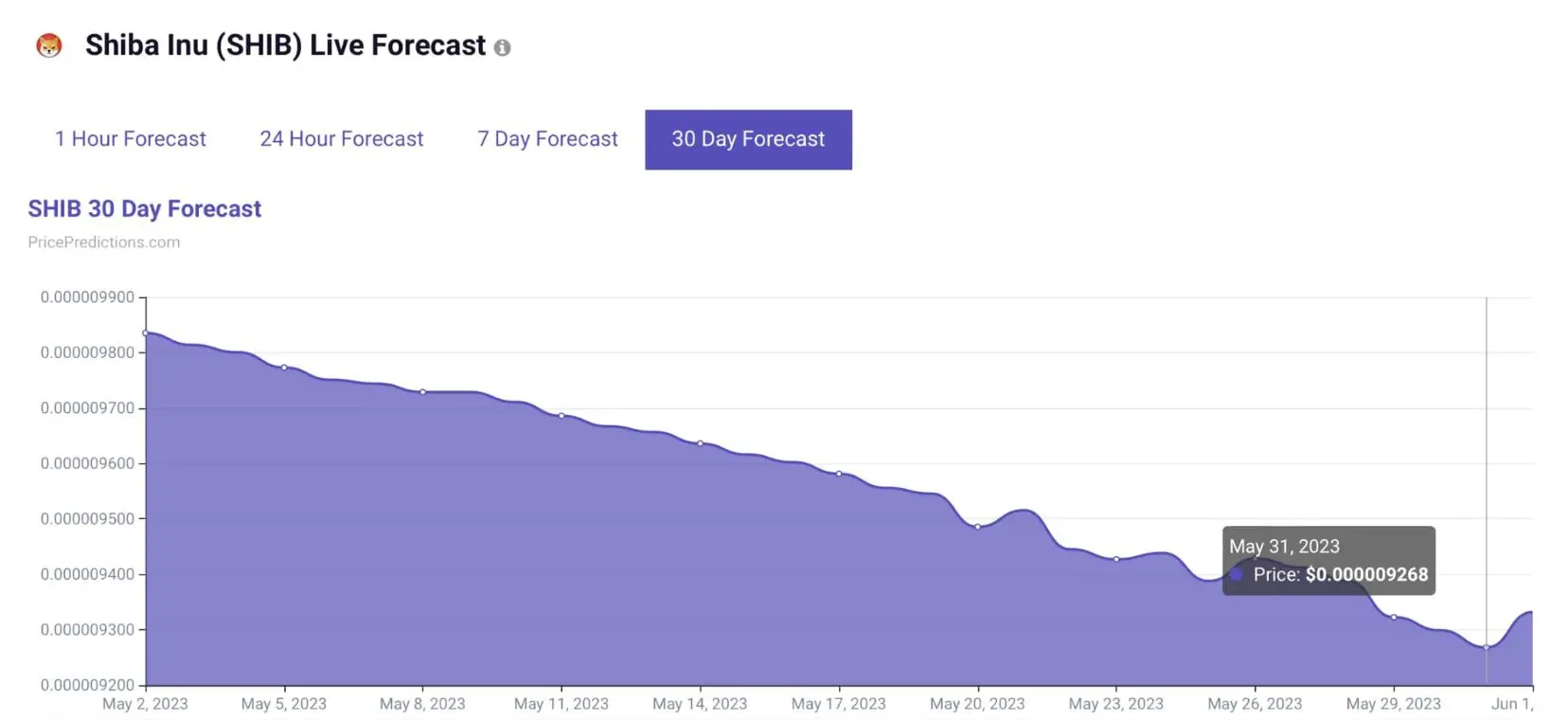 As of the current moment, the meme coin Shiba Inu is trading at a price of $0.000008491, reflecting a daily increase of 0.56%. Based on the above prediction, it is expected that SHIB will likely approach its weekly high of $0.000009067 within the next few days.
When can Shiba Inu expect a monumental price surge?
Shiba Inu's price has been rather stagnant for quite some time. The modest surges aren't aiding its holders. Gone are the days when SHIB could churn out millionaires. However, there are several rumors in the Shiba Inu community about Shibarium releasing in August.
The hype around the release could certainly boost the price of the asset. In addition to this, the huge magnitude of burns that would follow will also add to a potential upswing.