The cryptocurrency market has not yet attained stable ground and the value of most crypto assets was dwindling between local highs and lows. Shiba Inu was one such digital asset that has been fighting the bears in the market and its burn mechanism amid the volatility-filled periods was helping its price. According to the Shiba Inu burn, the Twitter account that keeps a tab of the total SHIB burnt, noted that in the past 24-hours a total of 32,421,311 tokens were burned in 16 transactions.
The token noted a 70.16% increase in the burn rate over the past day.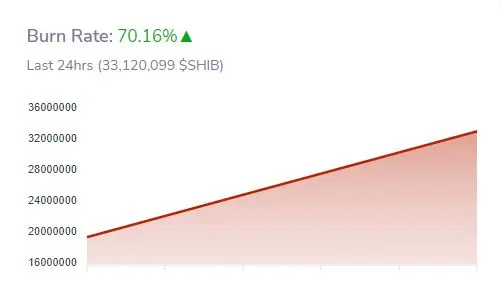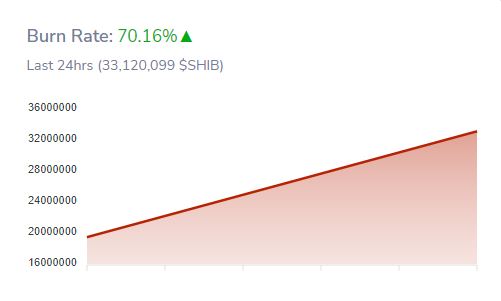 We gonna let it burn, burn, burn
Burn has been carried out by the Shiba community for a long time now. They transfer the SHIB tokens regularly into dead wallets to pull them out of circulation. Following which the coins cannot be used for any purpose, essentially meaning they do not exist anymore. Therefore, when the circulation supply of the digital asset is considered, it was noted to be on a decline.
The attached image below noted the maximum total supply of the Shiba Inu token was 999,991,758,330,016. However, after subsequent burns, the total supply has been brought down to 589,696,239,502,795. The current circulating supply of the digital asset was 589,696,239,502,795 with a total burnt 410,303,760,497,204 tokens from the initial supply. There were also 36,884,871,164,593 SHIB tokens stakes, at the time of press.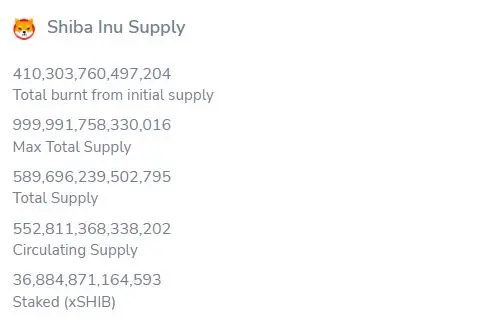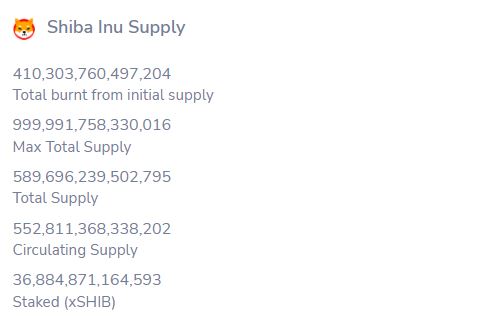 The intensity of this burn is just increasing as the tracker noted 698,788 SHIB tokens being burnt in the past hour through a single transaction. As the supply gets tamed, the demand for Shiba Inu is ever increasing. This can also be attributed to its ever-growing adoption press that saw major businesses like AMC Theaters.
Recently, in an AMA session with Watcher.Guru the prominent members of the SHIB community like Shib Informer, Queenie, Archangel, and others, informed that,
"We want to make the burn rate grow with the utilization rate of the platform. If we do that we can have a virtuous cycle that fits back into each other."
The ecosystem is aiming to maintain utility while decreasing the supply of the Shiba Inu token. Although it was impossible to burn 90% of the supply as sometimes demanded by the community, the focus was on integrating the toke to platform usage. With many more projects on the horizon, the SHIB token was trading at $0.00002333 with a merge profit of 0.96% over the past day.