Shiba Inu was all over the headlines after its recent surge in Shiba Inu burn rate, which shot up over 10129% in 24 hours. This was one of the rare moments in 2023 for SHIB. Shiba Inu have been displaying varying burn rates over the past few months. On certain days, the burn rate spikes, whereas it drops considerably on other days.
According to the details from Shibburn, the Shiba Inu burn rate has dropped by -88.37% over the past 24 hours. Only 656,009 SHIB was sent to dead wallets during the period. The burn game had ensured maintaining at least a million SHIB burns in 24 hours. However, the burn rate has dropped below the threshold. It is comparatively lower than yesterday, when 5.6 million SHIB were sent to dead wallets.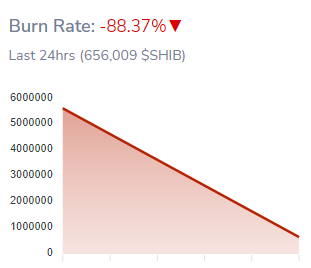 Shiba Inu drops as the whole market takes a hit
The whole cryptocurrency market has been on a positive run in January, with major coins displaying double-digit gains. However, the recent actions by the SEC on cryptocurrency staking have taken a toll on the entire cryptocurrency market.
Most of the coins are in single-digit losses, with SHIB losing over 6% in the last 24 hours. The meme coin is trading at $0.00001228 at press time.
Read more: Dogecoin Mid-February 2023 Price Prediction


Nevertheless, Shiba Inu is up 39% in the last 30 days and is likely to shoot up if the markets prove to be bullish.