Shiba Inu (SHIB) is without a doubt one of the most well-known cryptocurrency projects. The project has had its share of ups and downs. Furthermore, the SHIB team is working on a number of launches that could result in some positive price action.
The failure of the FTX empire had an undeniable detrimental effect on the cryptocurrency market. Almost every cryptocurrency on the market lost value. In the midst of chaos, popular cryptocurrencies such as BTC and ETH saw their values fall.
Amidst all the drama, the Shiba Inu burn effect has been going through its ups and downs. On certain days, the burn rate seems to be high. However, on certain days, it seems to stoop low. As per the data from Shibburn, there has been a fairly significant increase in the SHIB burn rate over the last 24 hours.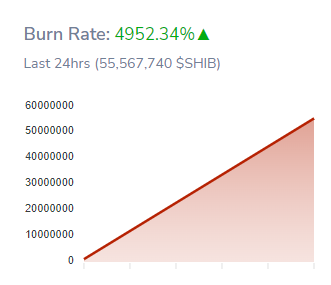 Shiba Inu burn rate skyrockets by 4952%
As per the details from Shibburn, the Shiba Inu burn rate has gone over the roof by over 4952% in the last 24 hours. 55,567,740 SHIB have been sent to dead wallets during this period. Two of the most notable transactions that happened were 11 and 17 hours ago at press time. These two transactions sent 28.5 million and 10 million SHIB to dead wallets in a single transaction.
At press time, SHIB is trading at $0.000009058, with a 3.73% loss in value over the last 24 hours. SHIB has dropped from its 24-hour high of $0.000009523 to its current price. Shiba Inu still has a long way to go in terms of their burns. Only then may there be a significant effect of the burn on its price.