Shiba Inu is a prominent meme coin, earning its place as the second largest meme coin. The team behind SHIB has shown consistent efforts towards its development, as evident from its various developments, such as the Shiba Inu Burn initiative.
The burn rate of SHIB has gained a reputation for its fluctuating nature, with some days experiencing a significant increase while others see a decline. Details from Shibburn have revealed that recently, few transactions have stood out in terms of numbers. These include the 1,695,524,269 SHIB burned 3 days ago, the 1,695,572,371 SHIB burned 6 days ago, and the 2,005,265,274 SHIB burned a week ago.
Also read: Ripple CEO's Prediction Sparks Discussion on Anticipated End of Ripple v. SEC Case

However, these instances are becoming rare, with the burn rate dropping considerably. The burn rate has also failed to keep pace.
Shiba Inu burn rate down by -77%
The inconsistent burn rate has often been criticized by the SHIB army. Shibburn details reveal that the burn rate has plummeted by 77% in the last 24 hours. Only 2.2 million SHIB were sent to dead wallets during this period.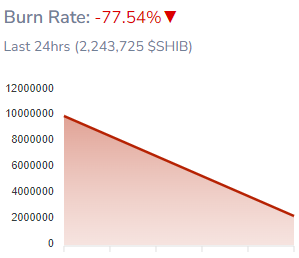 One transaction that occurred 11 hours ago sent only 315 SHIB to dead wallets. The absence of burning billions of SHIB every day will set back the meme coin in achieving the dream of its burn mechanism.