The introduction of Shibarium, the much anticipated layer-2 network of Shiba Inu [SHIB], generated substantial excitement. However, it did not significantly impact either the price or the rate of token burning. To illustrate, Shiba Inu's weekly token burning decreased by 38.76% in the past week. Shibburn reported that a total of 1,840,593,165 SHIB tokens were destroyed, distributed across 255 transactions over the course of the week.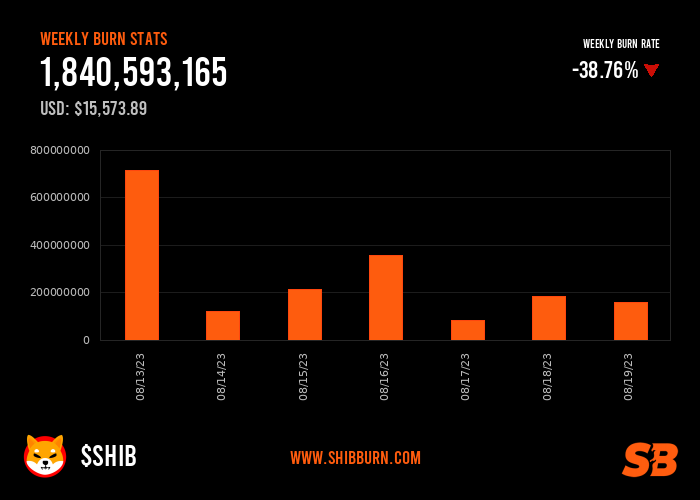 As illustrated above, the Shiba Inu network experienced its highest token-burning activity on the previous Monday, Aug. 13. The following notable instance occurred on Aug. 16, coinciding with the launch of Shibarium. However, this trend did not persist, as the following days witnessed a reduction in burn activity. Overall, a sum of $15,573,890 worth of SHIB was transferred to inactive wallets.
This fell short of the anticipated token-burning figures after the introduction of Shibarium. Earlier forecasts indicated that the Shiba Inu network would experience the incineration of 5 trillion tokens per month following the launch of Shibarium. However, considering its present rate, achieving this goal seemed uncertain. At press time, SHIB's burn rate was at a negative 46.38%.
Also Read: Shiba Inu: Shibarium to Burn 5 Trillion SHIB Tokens Every Month
Are whales losing interest in Shiba Inu?
As mentioned earlier, the price of SHIB was expected to surge. However, SHIB took a whole different route and plummeted by 22.44%. The meme coin, at press time, was trading for $0.000008197 with a 2.32% daily drop. Despite this dip, no large transactions were taking place in the SHIB market.
According to information sourced from IntoTheBlock, there was a significant decline in the overall count of substantial transactions. In the past day, merely 21 significant transactions were recorded within the Shiba Inu network. This indicated that large investors did not engage in buying during the market downturn. Right now, positive sentiment is lacking in the market.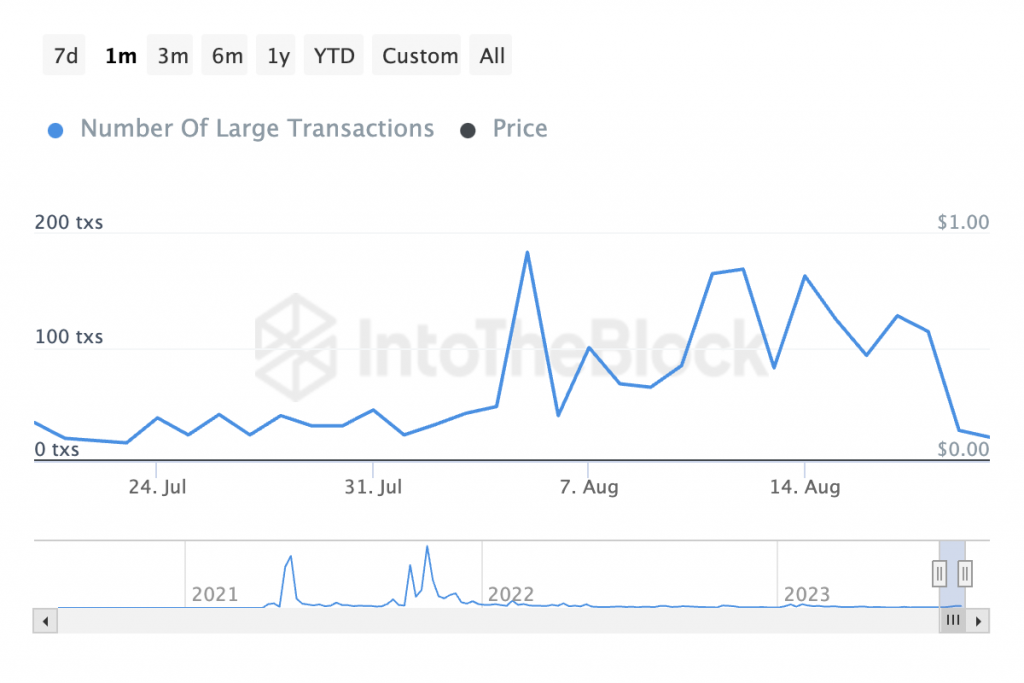 Also Read: Shiba Inu Can Still Hit $0.01 as Shibarium Breaks Away From Ethereum