The #ShibAMA Twitter space hosted by David Gokhshtein's 'Gokhshtein Media' saw close to 11,000 people in attendance. Speaker Queenie spoke in length about Shiba Inu and its future by answering every question thrown her way. She spoke about the upcoming Shibarium layer-2 solution. Queenie confirmed that BONE will be used as the native gas token on the upcoming Shibarium blockchain.
"BONE will be uses as the native gas token in the Shibarium layer-2 blockchain," said Queenie during the ShibAMA space. As soon as she confirmed the development, the Twitter Space erupted and brought in a dash of fresh energy.
"It's purely just that the gas token you'll be paying is BONE. So you're not losing any SHIB along the way. You will still be able to use Leash and Bone and get all your liquidity sorted," she said. Leash however, she said will be tied with the NFT segment.
When asked Shibarium's release date, Queenie declined to specify a timeline but said it "will be released as soon as possible."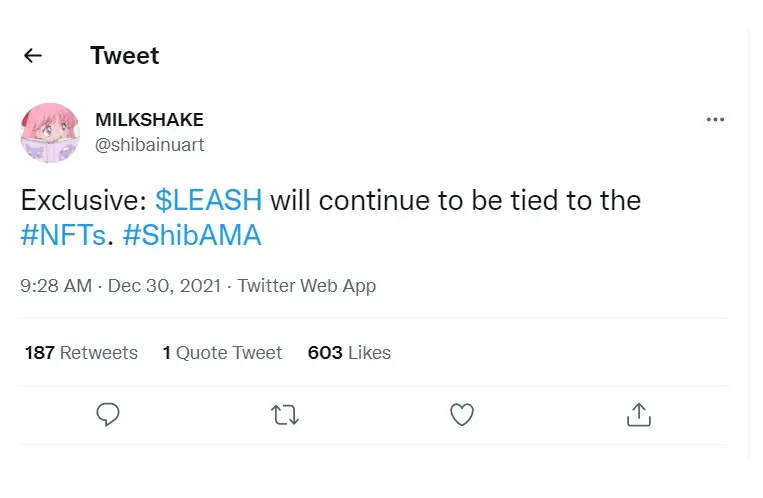 Queenie also confirmed that there will be a "big surprise when entering 2022" for the Shiba Inu community. However, she did not reveal nor give a hint as to what the "surprise" is. She also said that Bone won't be minted fully until 2024 and ShibaSwap 2.0 will keep a balance on it.
In her final notes, Queenie said, "I appreciate everybody. All of the support from the community. I was extremely nervous as anyone who's been speaking to me would know. But I'm I'm really honored to be representing the SHIB community and the team in this space. I'm just really excited for 2022. I can't express how optimistic and passionate I am about this project. It's just something else. Something to look forward to," she summed it up.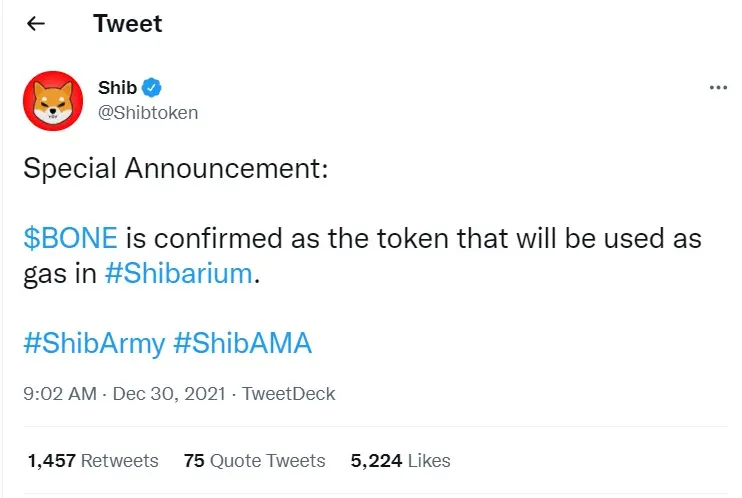 What is Shibarium and How Will Bone Be Used?
For the uninitiated, Shibarium is a layer-2 network that works on the Ethereum platform. It will eventually work in similar fashion to ETH and build its own network for users to access. Shibaium aims to provide users with a reduction in gas fees and will be an in-house platform for transactional purposes. Shibarium layer-2 will use BONE as the primary pair token.
"But if you are a SHIBA or LEASH holder, don't worry. Your Shiba holdings will be used to yield Bone at the launch," said Ryoshi in his Medium blog.
At the time of publishing, Shiba Inu was trading at $0.00003353 and is down -6.91% in the days trade.