Shiba Inu HODLers—just like most other alt HODLers—were seen pocketing gains on Tuesday. With the broader sentiment remaining optimistic, the global crypto market cap was seen inching towards the $1 trillion mark at press time. SHIB substantially contributed to the push.
While top alts like DOGE, XRP, ADA, and DOT had their gains capped under 3%, SHIB registered a 7% daily incline. In effect, it was one of the largest gainers from the top 15 digital assets.
Shiba Inu buyers on duty
On Coinbase, users have been engaging in Shiba Inu trades en masse. This has been one of the main reasons why the price has been able to trade in the green. On the third-largest exchange, SHIB's trade volume has risen up by 72% in just the past 24 hours.
Per the breakdown, 90% of the trades were buy-side inclined and only 10% were leaning towards selling.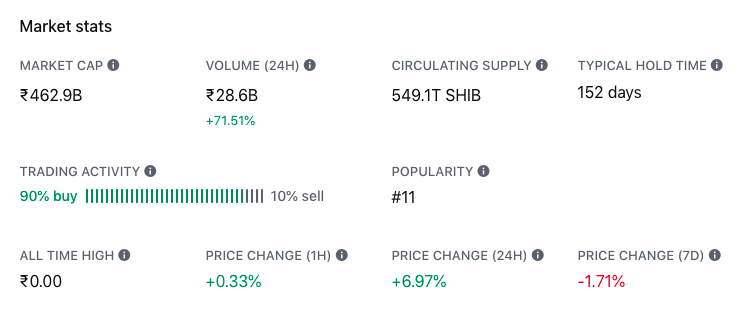 In fact, per ITB's stats, the buying bias was present in the broader market as well. Over the past 6 hours, for instance, the buy trades exceeded their sell counterparts by a whopping 1 trillion tokens.
Will the uptrend last?
Now, this aforementioned buy-trend is quite contrasting when compared to what we're seeing in the broader market. So, why is this happening? Well, Shiba Inu's correlation with Bitcoin, for starters, has plunged. This metric currently stands at a multi-week low at 0.22.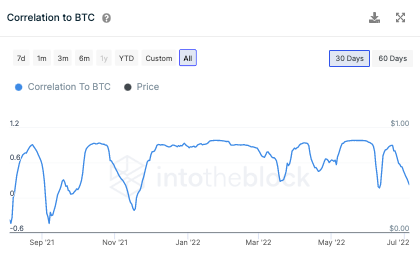 Now, with BTC and ETH expected to retrace, SHIB might continue striding forward, thanks to its decoupling. However, will that last?
Likely not.
Shiba Inu's network activity remains to be low. ITB's data brought to light that the active and new address count has declined of late. The former metric has dropped from 6.2k to 4.2k over the past two days, while the latter has dipped from 2.7k to 1.9k. The same essentially brings to light that Shiba Inu's price pump has not been quite organic.

So, keeping all the above datasets in mind, it can be inferred that the limited set of buyers present in the market are the ones manipulating the price for now. Once they stop buying and start booking profits, Shiba Inu's price might end up declining yet again.