The meme coin frenzy has taken several forms over the years. Dog-themed crypto assets like Shiba Inu [SHIB] and Dogecoin [DOGE] have been dominating the ecosystem for quite some time now. These assets were even part of the very first meme rally that occurred back in November 2021. The second meme coin rally ticked off toward the end of April 2023. This one, however, was ticked off by the advent of a frog-themed crypto asset, Pepe coin.
Social media has played a significant role, especially in the post-pandemic era, as these platforms have taken center stage. TikTok, in particular, experienced a remarkable surge in popularity and has become one of the most vastly used platforms. TikTok has seen nearly 5,000 posts tagged with #memecoin, indicating the considerable attention given to this topic. Additionally, the platform has garnered an impressive 33 million views on its #memecoin content. This further emphasized the widespread interest in this subject on TikTok.
The United States generated the highest level of interest, accounting for a substantial 6 million views on TikTok's #memecoin content. The United Kingdom and Germany followed closely behind, with 3 million and 2 million views, respectively. In terms of the age demographics, viewers aged 18-24 constituted the largest segment, comprising 56% of the total views. The 25-34 age group accounted for 29% of the views, while individuals over 35 years old represented a smaller portion, comprising only 15% of the total views.
Ignitors of the TikTok meme coin rally
As previously mentioned, the initial meme coin rally was predominantly fueled by the success of Dogecoin and Shiba Inu, resulting in significant profits for many individuals who became millionaires. However, in the second wave of the meme coin frenzy, Pepe and ArbDoge AI [AIDOGE] played a pivotal role in igniting the rally. These new meme coins captured the attention of investors and enthusiasts, contributing to the resurgence of the meme coin frenzy.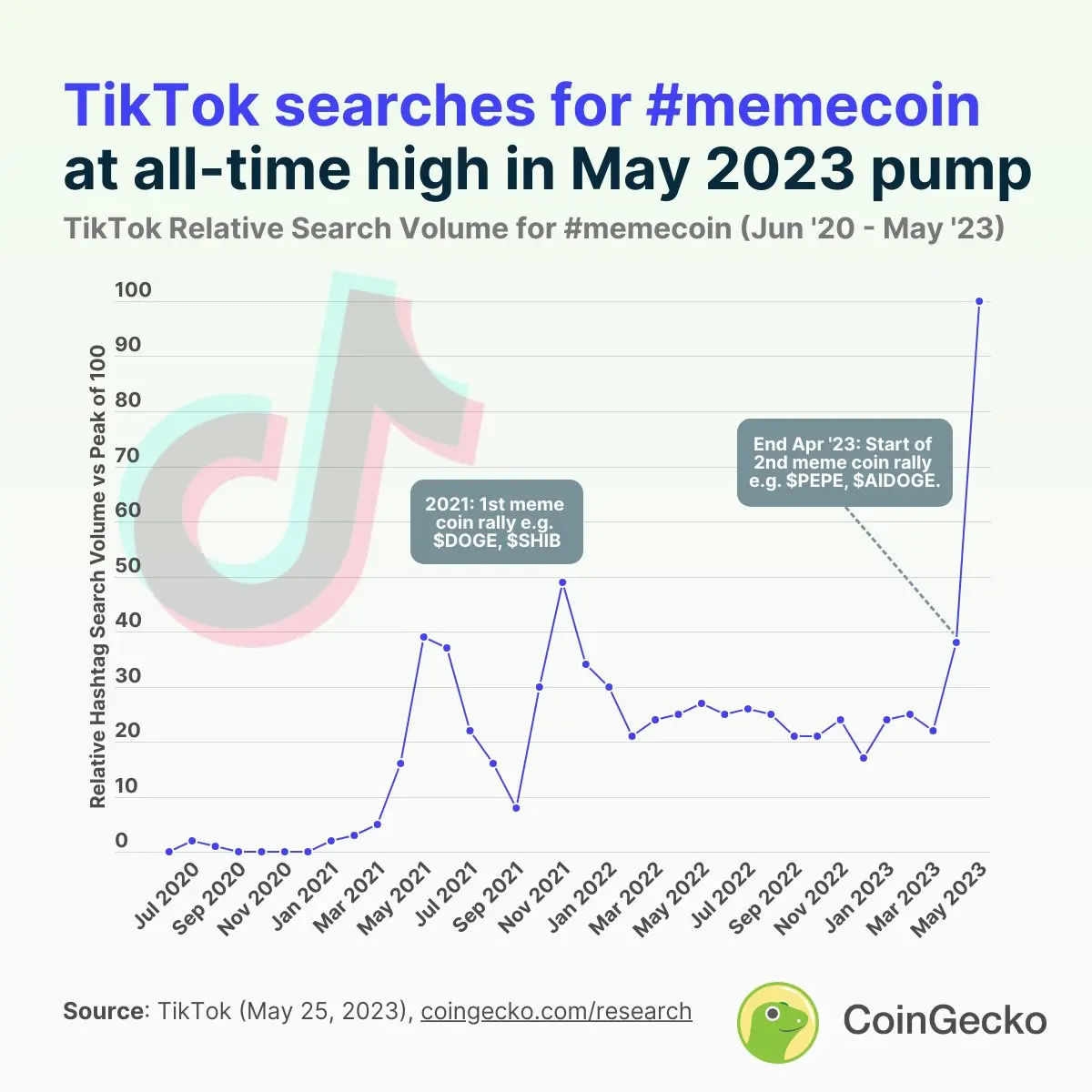 The CoinGecko report further read,
"The recent 2nd meme coin rally started at the end of April 2023, led by Pepe (PEPE), ArbDoge AI (AIDOGE), and others. This was reflected in TikTok users' increased interest in #memecoin, which rose to a level of 38 in April 2023, after hovering in the 20s range for over a year. TikTok users' interest in the #memecoin hashtag grew by around 2.6 times in May 2023, compared to April."
Despite the downward trend in prices, the interest and engagement around meme coins have remained high, suggesting ongoing attention and active participation from the community.