Shiba Inu transformed the perspective for the meme coin sphere. Due to a large number of partnerships and a sizable community, the asset reached its peak. SHIB has kept abreast of current events. Amid mounting community and partner interest, a rise in the price of SHIB has been difficult.
Without a doubt, the failure of FTX contributed significantly to the market's decline. Shiba Inu went down with other cryptocurrencies. However, the whale interest in SHIB has always stayed at its peak.
As per the data from WhaleStats, Shiba Inu has entered the top 10 purchased tokens list among the 5,000 biggest ETH whales in the last 24 hours. Some of the other tokens on the list include SmartCredit, ANT, cbETH, MATIC, and COV.
Shiba Inu burn rate drops
In order to lower the number of SHIB tokens in circulation, Shiba Inu (SHIB) debuted its burn portal in April of this year. Since then, the platform has sent billions of SHIB tokens to dead wallets, burning them out of existence. It is questionable, though, if the burn mechanism has affected the price of SHIB. Nevertheless, burns were progressing quickly.
However, as per the data from Shibburn, the burn rate has dropped by 36.8% in the last 24 hours. Over 23.9 million SHIB have been sent to dead wallets during this period. One notable transaction sent 10.6 million in one go to the dead wallets.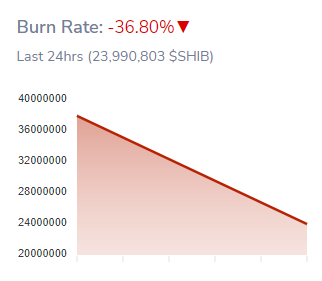 Shibburn reports that 666.9 million SHIB tokens were burned in November. The burns occurred in 149 transactions. Only time will tell whether December will outpace November's burn numbers.