Tagging along with the broader market, even Shiba Inu stepped into its consolidation zone in mid-July. It traded within a horizontal band between $0.00000756 and $0.00000802 for a ten-day period, collecting liquidity. SHIB recently broke above the aforementioned range. At press time, the asset was trading at $0.00000838, nominally above its SMA [$0.00000835].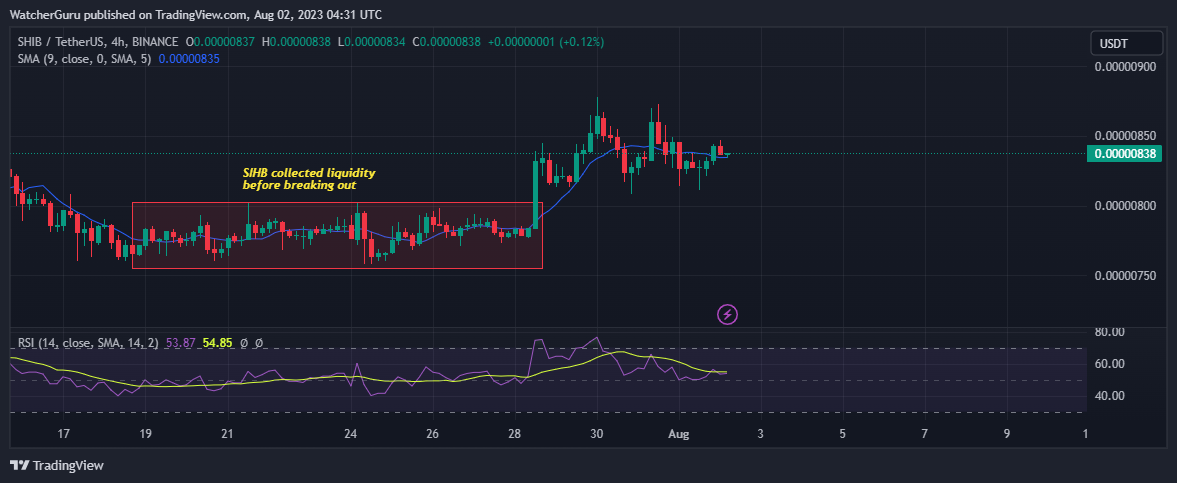 Also Read: Shiba Inu Forecasted To Rise 300% & Reach $0.00003: Here's When
Shiba Inu's 1 Year Progress
The initial half of Q1 was quite fruitful for Shiba Inu. It rallied by around 100% and created a high at $0.00001575 on Feb. 4. However, bears gained control from there on, and SHIB started correcting. When compared to 2022, SHIB's price has deteriorated. Exactly a year back, the asset was trading with four zeros at $0.00001175. At the moment, it is trading with an extra zero.
On the technical front, Shiba Inu's latest price movements are congruent to 2022. To rewind, SHIB initiated a uptrend in June 2022 and created a peak in mid-August. As depicted below, the asset has mirrored this trend in 2023. In fact, it can also be contended that a mid-August SHIB peak is likely impending for SHIB.
At this juncture, it should be noted that Shibarium will likely be released at the Blockchain Futurist Conference. The event is set to take place on August 15 and 16. Thus, with the L2 protocol's launch slated for mid-August, the asset's price can be expected to create a high, just like 2022.
Also Read: Shiba Inu: Shibarium Team to "Renounce" BONE Contract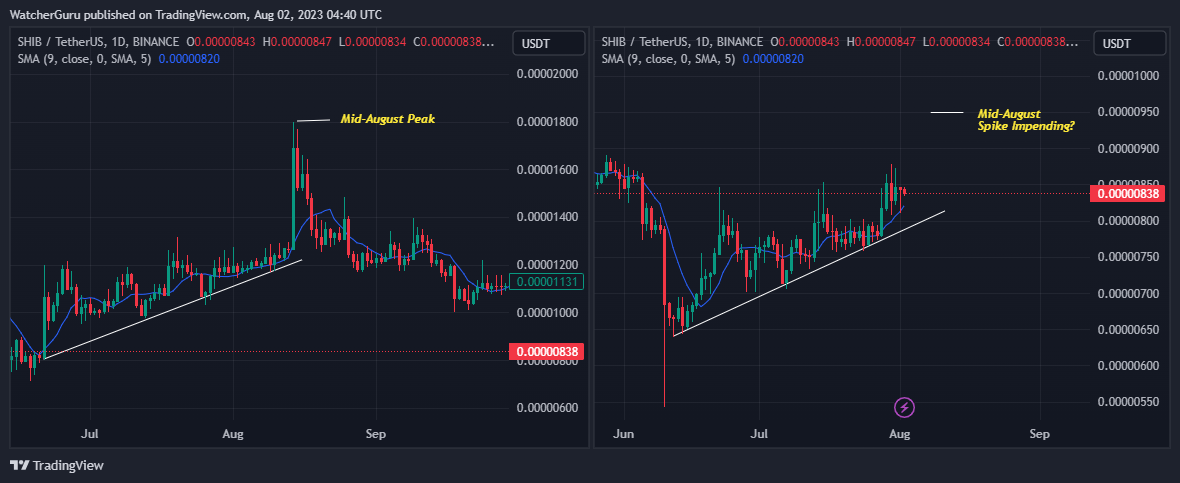 After peaking in August 2022, Shiba Inu's price corrected, wiping off most of its gains by mid-October. If the Shibarium-associated hype fails to sustain, then a similar scenario could pan out in 2023 as well. However, if the broader market led by Bitcoin embarks on its recovery journey and SHIB demand parallelly rises, then the uptrend could be renewed.
Also Read: Shiba Inu: Will Elon Musk Attend Shibarium's Launch Event?