Several anonymous whales have been transferring enormous stashes of Shiba Inu coin (SHIB) worth hundreds of millions in recent weeks.
Over 20 trillion Shiba Inu, valued around $200 million, has been on the move in a series of covert wallet-to-wallet shifts thanks to a whale. Last week, one stealthy entity funneled 4 trillion SHIB from one undisclosed wallet to another.
The original source of the funds remains shrouded. Now, the SHIB is being divvied up into smaller bundles valued at around $200K each before heading to various exchanges.
Also read: Hong Kong Retail Crypto Investors Largely Uninformed on Regulatory Regime: Report
For now, the full sum rests in a single wallet, but it appears destined for wider distribution. The opaque maneuvers are typical of tactics used to obscure transaction trails for privacy or more dubious reasons.
While the motives behind shuffling such vast sums secretly are unclear, the sheer scale has raised eyebrows. Market watchers are monitoring closely for potential impacts on SHIB's valuation.
Shiba Inu burn rate plunges by -42%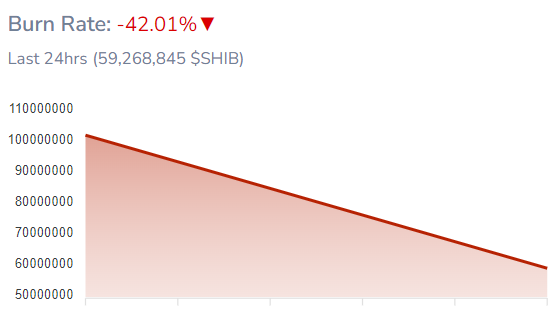 Data from Shibburn showed the SHIB burn rate plunged by -42% in the last 24 hours. Only 59,268,845 SHIB were permanently destroyed in under 24 hours. The burn rate has failed to sustain momentum with consecutive weeks of slumping burn rates.