The broader market has been in its recovery mode since the early hours of Friday. The leaders—Bitcoin and Ethereum, were trading in the green. Likewise, coins from meme boats like Shiba Inu and BabyDoge also noted similar inclinations. At press time, the second-largest meme coin was up by 1%, while the fourth-largest traded at a 2.2% higher than the past day.
The HODLers battle
The handle that frequently shares BabyDoge updates revealed that over the past 30 days, 16,593 new holders had joined this meme token's community. At press time, the network had over 1.61 million HODLers. In fact, 15 new addresses have been added to the BabyDoge network in the past hour.
Shiba Inu dragging its feet
Like BabyDoge, even SHIB HODLers have been rising. Compared to 28 August's 1.211 million monthly lows, the number has already inclined to 1.214 million. Even so, SHIB is lagging behind BabyDoge on this front. So, is that a problem?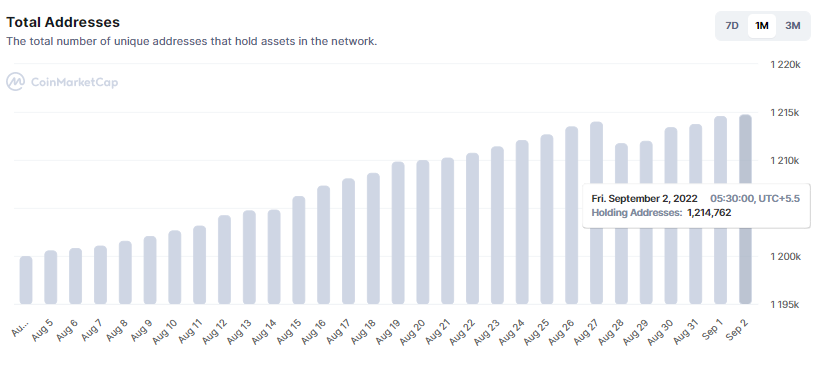 Likely not. SHIB's network activity has been recovering. Usually, an address is considered active when it becomes a direct participant in a successful transaction. Per data from ITB, Shiba Inu's active addresses have risen by 10% over the past week, indicating that things are fundamentally on track for Shiba Inu.
Even on the price front, SHIB has room to glide up from its current price before being resisted by sellers. As depicted below, the next significant resistance cluster for Shiba Inu extends from $0l.000014 to $0.000021. Here, over 105.81k addresses have bought over 440 trillion SHIB. So, from the technical perspective, Shiba Inu can rise to the floor of the said range.
However, if Bitcoin and co. Dip during the weekend, then SHIB can be expected to follow suit because it shares a high correlation with them.

Also Read: Shiba Inu Records 3.6 Billion SHIB Burned in August