Shiba Inu has gained significant traction as a successful meme coin. Competing closely with Dogecoin, the SHIB team has been actively involved in various community projects, leading to an increase in Shiba Inu market cap and price predictions.
In a striking revelation, crypto trader Ali has shared data indicating a substantial outflow of Shiba Inu from known cryptocurrency exchanges during the month of July. The data shows an astounding 3.30 trillion SHIB being transferred out of exchanges, with an estimated value of approximately $28 million.
Also read: Dogecoin Army Buzzing with Anticipation After Elon Musk's Tweet
The spike in cold wallet withdrawals is happening at a time when the SHIB community is anticipating the launch of Shibarium.
Shiba Inu's burn rate plummets
The Shiba Inu burn rate has been the subject of interest. It shows varying patterns with occasional significant increases and declines. However, in recent times, the burn rate has become more stable, consistently witnessing millions of SHIB burning daily. Nevertheless, the latest data shows otherwise.
Also read: Dogecoin Eyes $0.1 Milestone, What's Hindering the Surge?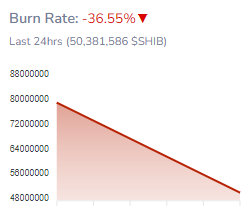 According to Shibburn, the SHIB burn rate experienced a notable decline of 36.5% in the past 24 hours. During this period, only 50 million SHIB went to dead wallets.