Shiba Inu and Dogecoin are the two most popular cryptocurrencies in the world and investors are flocking towards it en-masse. SHIB is more popular in three countries and they include Australia, India and the Philippines. The high trading activity in these three countries can be attributed to its top exchange platforms listing SHIB.
The top 3 trading platforms in Australia eToro, ByBit and Binance have listed SHIB making it easy for investors to purchase it. In the Philippines, Binance has listed SHIB and majority of investors purchase it from there. In India, the top exchange platform WazirX listed SHIB in May 2021 making it the most popular meme-token in the country.
Popularity of Shiba Inu Soars in India
Shiba Inu's popularity grew in India after Covid-19 battered the country during the second wave . Ethereum founder Vitalik Buterin donated $1.5 billion in cryptocurrencies to India. That included 50 trillion Shiba Inu coins in donations to help them in the fight against Covid-19.
Since then, SHIB became a household name in India and Indians have a special place for it in their hearts. Moreover, they believe that SHIB donations helped them navigate out of the Covid-19 crisis.
Around the same time as Vitalik's donations, India's top exchange WazirX listed SHIB and Indians jumped in on the bandwagon. Therefore, for Indians, Shiba Inu and Dogecoin is the most sought-after token.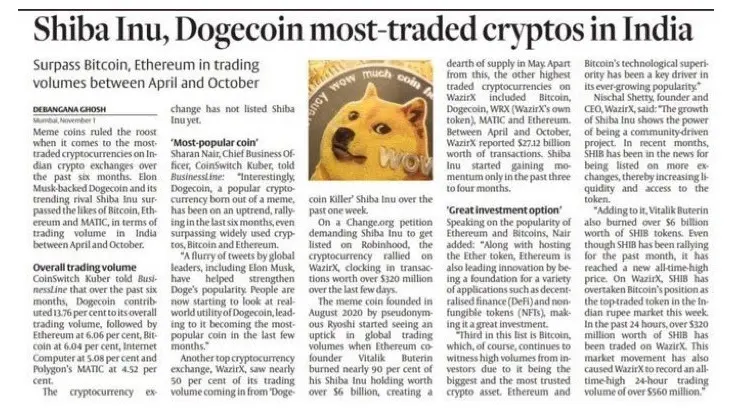 Shiba Inu More Popular Than Ripple and Cardano in Australia
A recent survey released by Saxo Group shows that Shiba Inu is more popular in Australia than Ripple and Cardano. However, the top 5 cryptocurrencies in Australia are Bitcoin, Ethereum, Dogecoin, Binance Coin and SHIB respectively. Nonetheless, Ripple, Cardano, PolkaDot, Solana comes between 10 to 13th position respectively.
One of Australia's leading exchange platform CoinSpot listed SHIB in May and opened the floodgates of new investors. SHIB is growing in Australia and the country down under has a strong community presence in the crypto sphere.
Shiba Inu in Philippines
Philippines top trading platform Binance listed Shiba Inu and investors are purchasing the meme-token in droves. SHIB has a strong standing in the Philippines and investors are purchasing it as the price is relatively low. SHIB is seen as a low-hanging fruit and is affordable to the common investor in the island country.
At the time of publishing, Shiba Inu was trading at $0.00003267 and is down -5.43% in the 24-hours day trade.