The cryptocurrency market was a sea of red on Saturday after a crippled Bitcoin immobilized most alts from generating any positive returns. The second-largest meme coin by market cap- Shiba Inu, was at the receiving end of a ghastly sell-off.
At press time, SHIB traded at $0.00001893, down by 23% over the last 24 hours. What was more concerning was the fact that SHIB faced a dearth of support levels, decreasing the chances of an immediate rebound.
Shiba Inu 4-hour time frame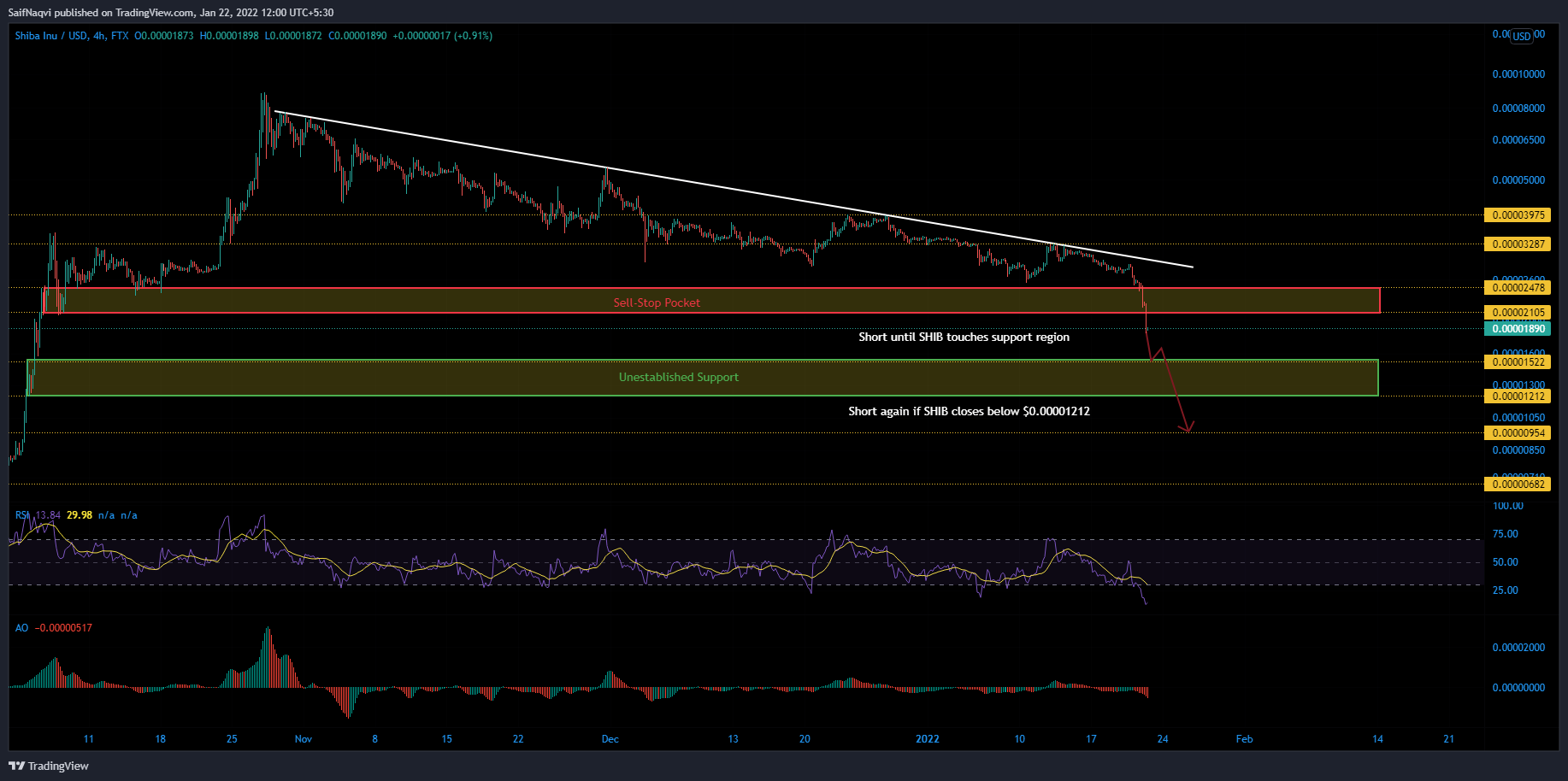 Shiba Inu was trading in unfamiliar territory after slipping below a sell-stop pocket between $0.00002478-$0.00002060. With no immediate fallbacks to rely on, bears were expected to rip through SHIB's cracks until a support region is established. The closest logical defense rested between $0.00001522-$0.00001212 – an area that allowed bulls to manage a round of sell pressure during SHIB's October 2021 rally.
READ ALSO: Shiba Inu holders surge ahead of Uphold listing; Price continues to stagnate
Bear in mind that SHIB was marked by extremities and these support areas carried low probabilities of a reversal. Instead, a more sound defense stood at $0.0000954. The area reversed roles after functioning as a strong supply zone during June-October 2021.
Meanwhile, there were almost zero bullish takeaways and any long setups should maintain a tight stop-loss.
Indicators
SHIB's plummet dragged its 4-hour metrics to monthly lows. The Awesome Oscillator fell sharply below its half-line and traded at its lowest point since 7 December 2021. The index would most likely maintain its decline due to the lack of any buy signals.
The RSI pushed deep into oversold territory and hit a 4-month low. Now even though the RSI was trading in an area of reversal, it should not be taken at face value as the market was driven by FUD.
READ ALSO: Shiba Inu devs working on new burn mechanism
Conclusion
Shorting is the safest trading strategy at the moment. Take-profits can be set at $0.00001522, marking a quick 19% gain from SHIB's press-time level. Those looking for a safe spot for longs should play the waiting game as SHIB could drop lower if the price slips below $0.00001212.