Shiba Inu has become a popular meme-based cryptocurrency. It competes directly with Dogecoin in the meme coin space. The developers behind Shiba Inu have been working on various projects for the community.
However, the recent launch of Shibarium didn't prove to be as effective as anticipated in terms of price performance. With cryptocurrency prices trading with major volatility in the past few days, here is our Shiba Inu price prediction for August end 2023.
Shiba Inu price prediction for August end 2023
Shiba Inu's price currently stands at $0.000008285, with a 3% drop in value over the last 24 hours.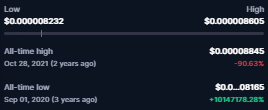 According to Changelly analysts, SHIB is expected to trade at a minimum of $0.00000740 and a maximum of $0.00000912 by August end. Experts predict that the average trading price will be $0.00000826. SHIB has fallen 90.6% since its all-time high of $0.00008845 on October 28, 2021.
Also read: SHIB Investors on Edge as New Wallet Amasses Staggering 4.7 Trillion SHIB
Compared to all the meme coins in the market, SHIB has exhibited the highest loss in the last 24 hours. However, the market is extremely volatile at the moment. The price can go in either direction depending on market sentiment and other factors.