The meme cryptocurrency Shiba Inu [SHIB] has been quite popular over the years. The network also raised its utilities, even though the price is not in its best shape.
Meme coins are gaining popularity despite the growing acceptance of other cryptocurrencies. Among the popular meme coins, SHIB has been on top in terms of sheer development. However, the same cannot be claimed for its price performance.
SHIB has reached a crucial point called "Final Destination," according to the analysts. The $0.000008 price level has also been a significant level that triggers a reversal. However, the second-largest meme coin has failed to reverse from that level.
Also read: Shiba Inu: SHIB The Metaverse to Unveil Sneak Peek of Rocket Pond
Shiba Inu has in fact dropped in value from the $0.000008 level and is trading at $0.000007906 with a 3.8% drop in value over the last 24 hours.
Shiba Inu burn rate drops by -50%
According to the details from Shibburn, the Shiba Inu burn rate has dropped by -51.74% in the last 24 hours. The data shows that only 4.7 million SHIBs were sent to dead wallets during this period.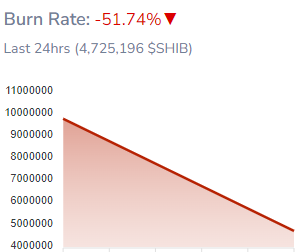 This is comparatively low as opposed to last week when certain days witnessed the burning of over 3 billion SHIB. The market as a whole is trading in the red as a result of the SEC lawsuit against Binance and Coinbase.