Despite price fluctuations, Shiba Inu continues to be the talk of the crypto town. Earlier today, there were concerns raised about Shibarium's Beta Chain ID. However, pseudonymous developer Kaaldhairya soon announced that a new version of the beta network with a fresh chain ID will be redeployed. Parallelly, people from the ecosystem continue to discuss, play the guessing game, and debate about who the actual founder of Shiba Inu is.
Evidently, the social volume of Shiba Inu-related mentions on social platforms like Twitter have risen. Data from LunarCrush revealed that the social contributors surpassed 50.26k, etching a new 90-day high. The analytics platform chalked out that every time a rise on this front has been noted, the price of the asset has benefitted from the same. Chalking out the intensity of the pump that can be expected based on past precedents, LunarCrush tweeted,
"Average weekly price change after 9 previous similar insights – +13.8%."
Now, an incline of such a magnitude would push up Shiba Inu's price around its CPI-day local high of $0.00001186. However, to do so, SHIB will have to clear a few hurdles on its path.
Also Read: Shiba Inu Plunges 10% After the Shibarium 'Code' Drama, Here's How
Shiba Inu's short, and mid-term outlook
From the technical perspective, Shiba Inu's price has not been able to break past its downtrend line for more than six weeks. As shown below, a handful of wicks did manage to touch the roof. However, there wasn't enough momentum to break the pattern.
For now, SHIB will have to overcome resistances around $0.000011 and its EMA cluster to re-attain its local peak. Thereon, if bulls continue to support, SHIB can rise all the way up to $0.000014 over the mid-term. The same would translate to a ~34% incline from the current price.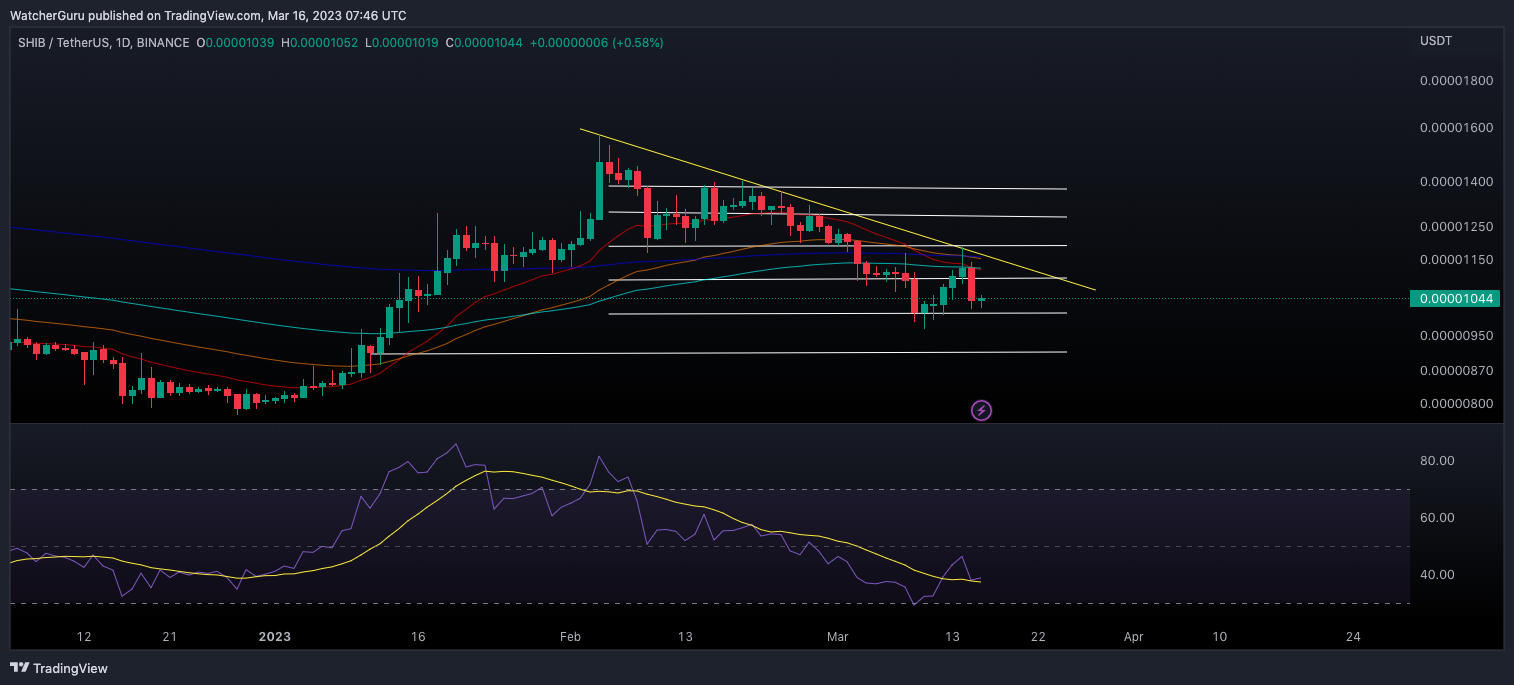 Also Read: Baby Doge Emerges As 'Top' Trending Coin Binance: Shiba Inu, Bitcoin Follow
Such an incline would arguably be effortless for Shiba Inu because it doesn't have any immediate major resistance cluster. According to on-chain data, only in the $0.000014 to $0.000020 cluster, almost 100k addresses have bought 467 trillion SHIB tokens. Thus, it can be contended that Shiba Inu has room to glide up until the floor of the said range under bullish conditions.
However, if a macro-correction takes a concrete shape, then, SHIB could drop down to either $0.0000106 or $0.00000912 over the next few days, depending on the bearish intensity.

Also Read: Cardano Founder: Crypto Needs To "De-Risk" From Unstable, Volatile Banks