The Shiba Inu [SHIB] ecosystem has been prepping for the introduction of Shibarium. In anticipation of the official mainnet launch, the network, and community have been testing various additional features. Lucie Sasnikova from the Shiba Inu team recently disclosed that the cross-chain bridge, an integral part of the layer-2 scaling protocol Shibarium, is now available for public testing.
Several members of the community affirmed that the "bridge is up" after running their own tests. The cross-chain bridge feature, incorporating Shibarium's Proof of Stake [PoS] and Ethereum sidechains, was initially disclosed in the documentation of the Shibarium network. This bridge is anticipated to provide swifter transaction speeds and cost-effective transfers. It will do so by leveraging Ethereum's sidechains to carry out transactions. Additionally, the cross-chain bridge will also rely on PoS security to facilitate bi-directional transactions between Shibarium and Ethereum.
Furthermore, the implementation ensures a seamless transfer of tokens between the two networks without any involvement of third-party risks. It also ensures continuous liquidity across the platforms, making it an efficient scaling solution. Therefore, this bridge is a pertinent development for the Shiba Inu ecosystem.
Also Read: Is a Shibarium-Ethereum Bridge in Development For Users?
Is Shibarium Testnet losing fervor?
Earlier this month, Shibarium's native testnet, Puppynet, reached a notable milestone by surpassing 30 million total transactions on the network. Although the total transactions on the network have been increasing, the number of daily transactions has started to decline. As of now, the total transaction value stands at 32,783,866, while the daily transactions amount to 252,631. Although enthusiasm for the project remains relatively high, any additional postponements in the launch of Shibarium could have negative consequences. The Shibarium's mainnet release is speculated to take place in August.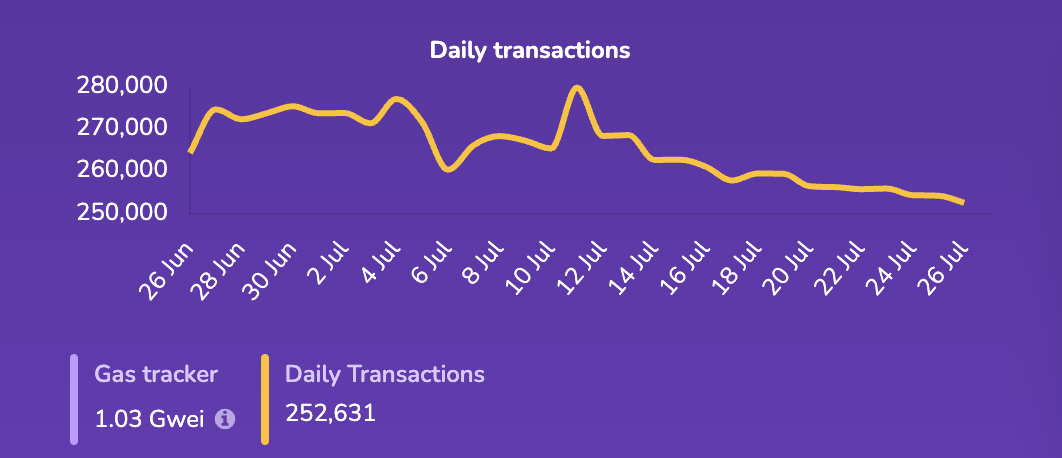 Also Read: Shiba Inu Attains New '30 Million' Record