Unification, the development team behind Shiba Inu's (SHIB) Shibarium layer-2 network, has released a new blog, updating the community on the development status. The team said that their work with the Shibarium team remains their core project for the year. The blog further added that the project is moving ahead "with great strength."
However, the Unification team has not provided any release date so far. As per the blog,
"It's much more important for us to work with and support the team to ensure the most secure, usable vision and accompanying product possible."
Unification said that the internal alpha is being optimized to serve the requirements of the huge audience. The team has assured the Shiba Inu (SHIB) community that the launch is just around the corner, and another update on the product will be available soon.
Shiba Inu price vs Dogecoin drops to record lows, rally soon?
On November 1st, the SHIB/DOGE pair fell to a record low of 0.0000841, before bouncing back up. Historically, SHIB has rallied after such a development.
Shiba Inu's prior dip to the aforementioned trendline happened in May 2022 and was followed by a 100% recovery rally over the following three months. Similar to this, the SHIB/DOGE pair recovered by more than 50% in less than a month in January 2022. If history is any guide, SHIB could have a sharp bullish turnaround against DOGE once more.
Now Dogecoin had the biggest rally among the top 100 crypto tokens, with gains of up to 145%. The rally was fuelled by Elon Musk's Twitter acquisition. Speculation about whether DOGE would be integrated into the social media giant's tipping feature pushed the token's price.
Furthermore, Shiba Inu's burn rate has also witnessed a spike at press time. According to the data on Shibburn, the burn rate stood at 238.9%.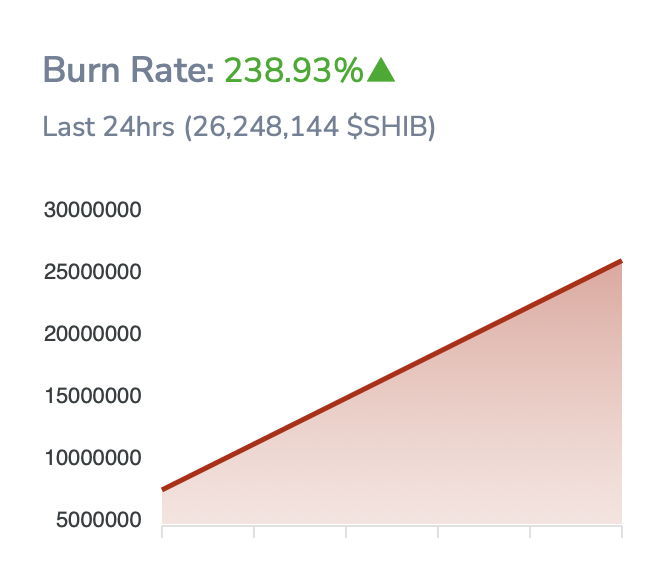 At press time, Shiba Inu (SHIB) was trading at $0.00001219, down by 3.4% in the last 24 hours. Moreover, the token is still down by 85.9% from its all-time high of $0.00008616.