The Shiba Inu [SHIB] network has been dealing with the descending price of the meme coin. Amidst this, the developers of the network decided to restore hope to the ecosystem. Over the weekend, Shytoshi Kusama, the lead developer of SHIB took to Telegram to address all the FUD that has been going on the market. Alongside, Kusama went on to drop details of a major release that is expected to take place in July.
During a recent interaction with the Shib Army on Telegram, Kusama, the lead developer of Shiba Inu, provided updates on the development of the ecosystem. Kusama hinted at an upcoming trailer for a new addition to the Shiba Inu ecosystem. The message also mentioned a planned release of the project in early July. This further indicated that exciting developments are on the horizon for the community. The developer said,
"In fact, wen the time is right, the next 'something is coming' trailer will blossom into a showcase of the next addition to our ecosystem, and slated for early July."
While details of the project were still under wraps, several were betting on an early release of Shibarium. The layer-2 network is expected to launch sometime in August.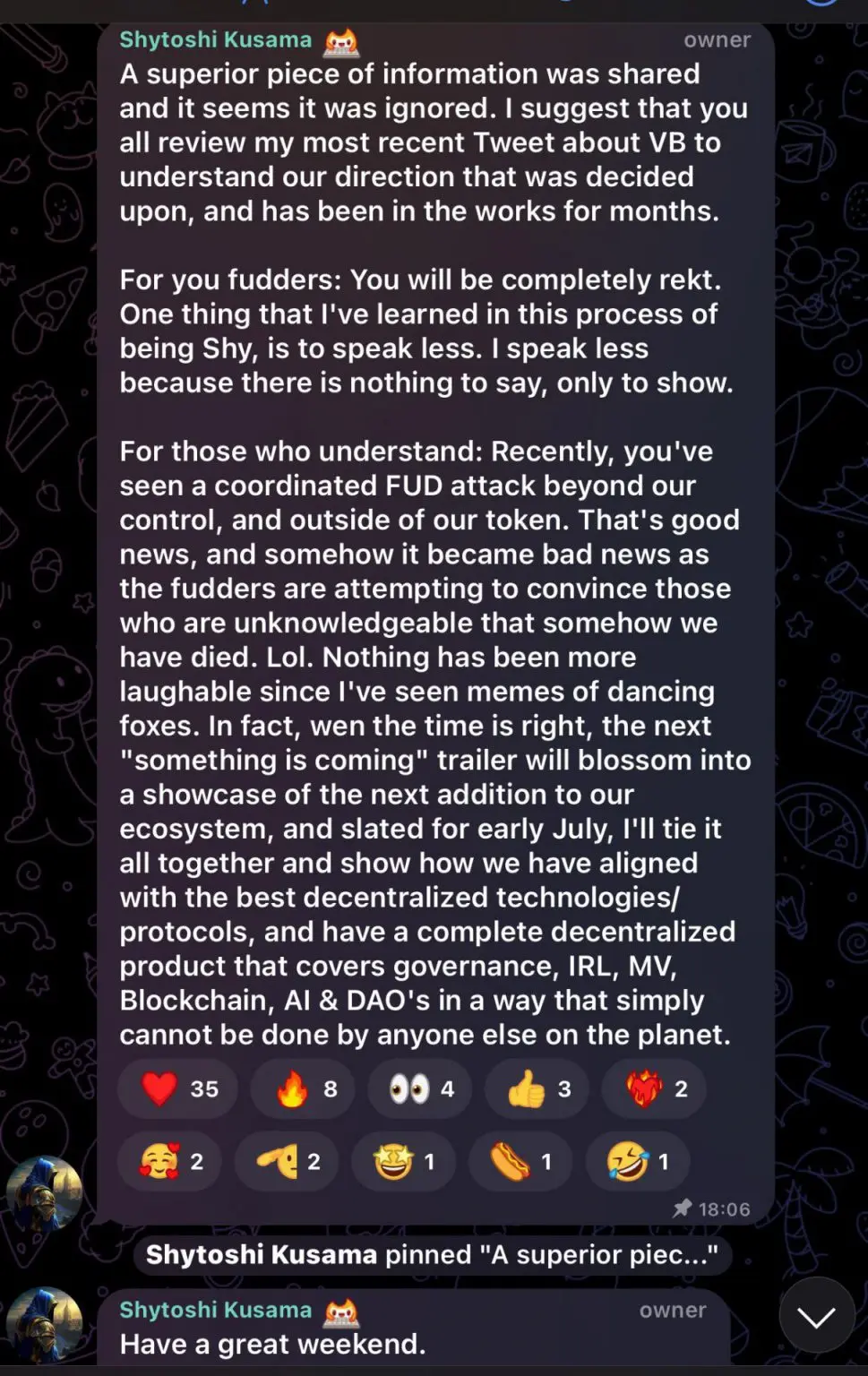 Shibarium Beta records over 20 million transactions
It looks like Shibarium was creating quite the buzz even before the mainnet launch. Over the past month, the Shibarium Beta Testnet's Puppynet has witnessed a remarkable increase in transaction volume. Users and participants in the testnet have actively engaged with the platform, leading to a surge in the number of transactions being conducted. With a 157% increase compared to the previous month, it has reached a new milestone of 20.47 million transactions. The network now processes around 491,994 transactions per day.

However, these bullish attributes did not reflect on the price of Shiba Inu. At press time, the meme coin was trading for $0.000006642 with a 1.27% daily drop.