Shiba Inu, a cryptocurrency that gained popularity as a meme coin, has attracted a significant amount of community interest and engagement in various projects, including the development of the Shibarium network, Puppynet.
Throughout 2022, the Shiba Inu team introduced several projects, such as the Shiba Eternity game and the SHIB metaverse, which generated excitement for the upcoming launch of Shibarium. However, the launch of Shibarium faced delays due to various reasons.
Also read: Dogecoin (DOGE) Bulls Eye 100% Surge as Price Approaches Critical Resistance
Finally, on March 11, the Shibarium's Puppynet was successfully launched and has since made substantial progress. Notably, as of July 17, Puppynet had processed over 30 million transactions, reaching a significant milestone for the network. Presently, according to the latest data, the Shibarium Puppynet has achieved another noteworthy milestone.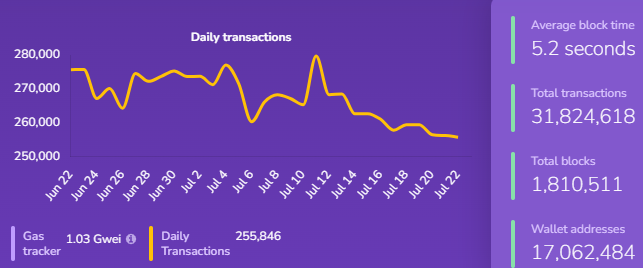 Shytoshi Kusama Celebrates Shibarium milestone
Shiba Inu lead developer Shytoshi Kusama recently commented a partying face emoji on a tweet by a Twitter user. The user had shared the recent milestone of the Shibarium testnet, stating that it has surpassed 31 million transactions.
Also read: Shiba Inu: Shytoshi Kusama's Cautionary Message For SHIB Community
Since its introduction on March 11, the Shiba Inu Shibarium testnet has demonstrated impressive transaction processing capabilities, handling a total of 31,824,618 transactions to date. The network has also generated 1,810,511 blocks, with an average block time of 5.2 seconds, indicating efficient operation. Furthermore, according to data from Puppyscan, the number of wallet addresses has surpassed 17,062,484, highlighting a growing user base.