Shiba Inu's upcoming project Shibarium is the most-awaited development and investors are eagerly awaiting its release. Users believe that Shibarium could be the sole vehicle that could steer Shiba Inu towards reaching the 1 cent path. Shibarium is a layer-2 solution built on the Ethereum network that aims to considerably reduce gas fees and make it easier to transact the token. The development could attract many more new and first-time users into the SHIB ecosystem and increase its trading volume.
Read More: Will Shiba Inu Reach '1 Cent' 10 Years From Now?
During a recent Discord Q&A session on Welly's group, a user asked the lead developer of ShibaSwap, Shytoshi Kusama about the Shibarium release. However, this time, Shytoshi did not mention the term 'Shibarium documentation' and spoke directly about Shibarium.
"Shibarium soon. Already in discussions to beef up efforts," he replied to the user who asked for Shibarium's release date.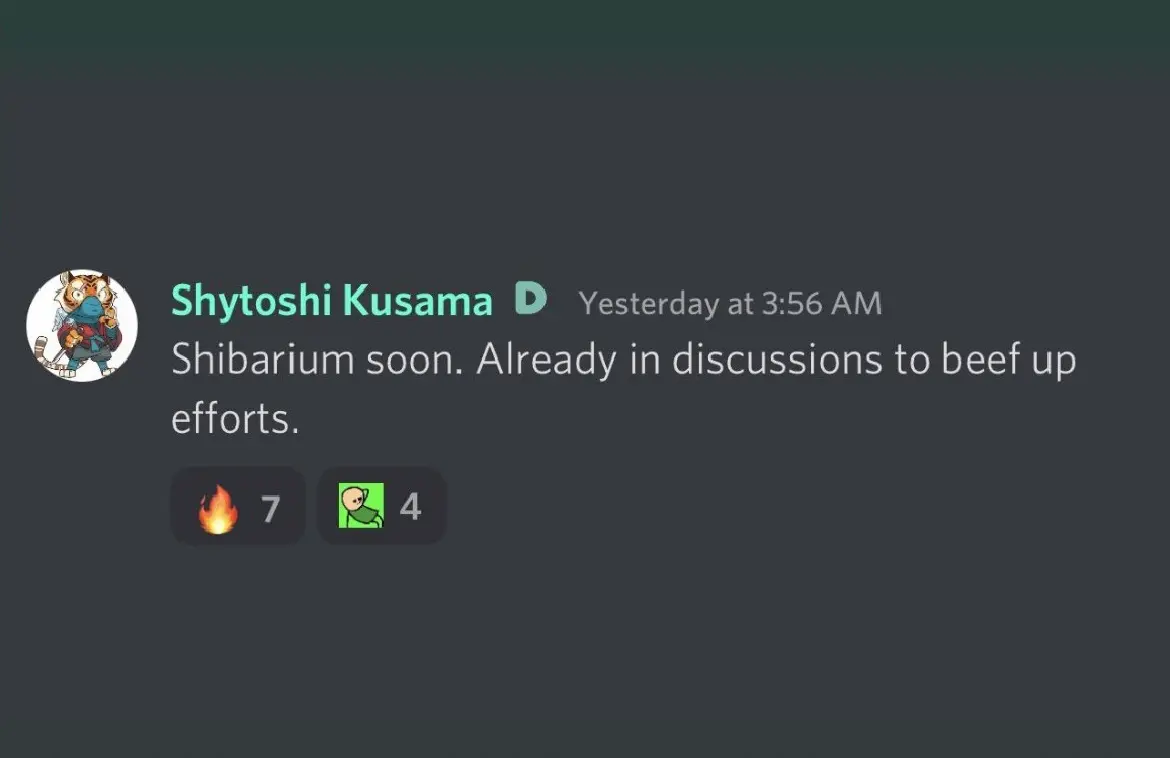 Shytoshi has been repeatedly giving out comments about Shibarium and 'Shibarium documentation' release as "soon". Nonetheless, a straightforward tentative release date has not been given out as the layer-2 solution is still in progress.
The last update from Unification, that's working behind the Shiba Inu Shibarium network revealed that layer-2 has progressed to a private testnet. The public testnet will be released when the private testnet is fully ready to go.
Read More: Buying Pressure For Shiba Inu Reaches Yearly Highs Amidst Crypto Crash
However, reports state that Shibarium could be released by the end of 2022, but that isn't confirmed either. We'll have to wait and watch for an official confirmation about Shibarium's release from the team when it is ready.
Shiba Inu: In-Built 'Burning' Mechanism in Shibarium
It is reported that Shibarium could have a small transaction fee that could then be used to burn SHIB tokens. Shiba Inu Discord moderator Queenie had previously run a hypothetical data suggesting Shibarium could burn trillions of tokens each year.
Read here to know more about Queenie's hypothetical calculations and how many SHIB tokens could be burned every year. Also, these are only Queenie's estimates and not an official 'burn' report released from the SHIB team.
Read More: Shiba Inu 'Burn Rate' Intensifies, Surges 350% in 24-Hours
Shiba Inu needs to burn trillions of tokens in order to paint a realistic picture of it reaching the $0.01 mark. If it fails to 'burn' tokens, the '1 cent dream' could just be a dream to its millions of investors.
At press time, Shiba Inu was trading at $0.00000790 and is down 4.9% in the 24-hours day trade. It is also down 90.8% from its all-time high of $0.00008616, which it reached in October last year.