Shiba Inu holders will be able to receive their rewards for burning tokens every two weeks starting from May 17, according to a new post.
The latest announcement by the SHIB team comes weeks after a burning portal was introduced, allowing holders to permanently burn SHIB tokens and earn passive income.
Those participating in Shiba Inu burns will receive tokens called burntSHIB, which can be staked to generate rewards in the form of Ryoshi tokens, a separate token created by the community. In turn, 0.49% of all RYOSHI transactions would be distributed to the owners of burntSHIB.
Shiba Inu – Ryoshi Vision collaborate on burn mechanism
In crypto, burning means permanently destroying tokens from circulation by sending them to a bun address from where they cannot be retrieved. Based on the laws of demand and supply, a reduced circulating supply would, in theory, make an asset more scarce and drive up its value. Many experts believe that the machine is ideal for increasing demand for Shiba Inu, which has a circulating supply of 1 quadrillion tokens.
During April end, the Shiba Inu team and Ethereum-based DeFi project Ryoshis Vision created a new burn mechanism to cut the Shiba Inu's circulating supply while also rewarding holders with a yield-generating token, RYOSHI.
The team had added "A burnt cryptocurrency has a reduced supply, making the tokens scarcer. A scarcity can increase the price of the tokens, benefiting investors, yet it is not always guaranteed."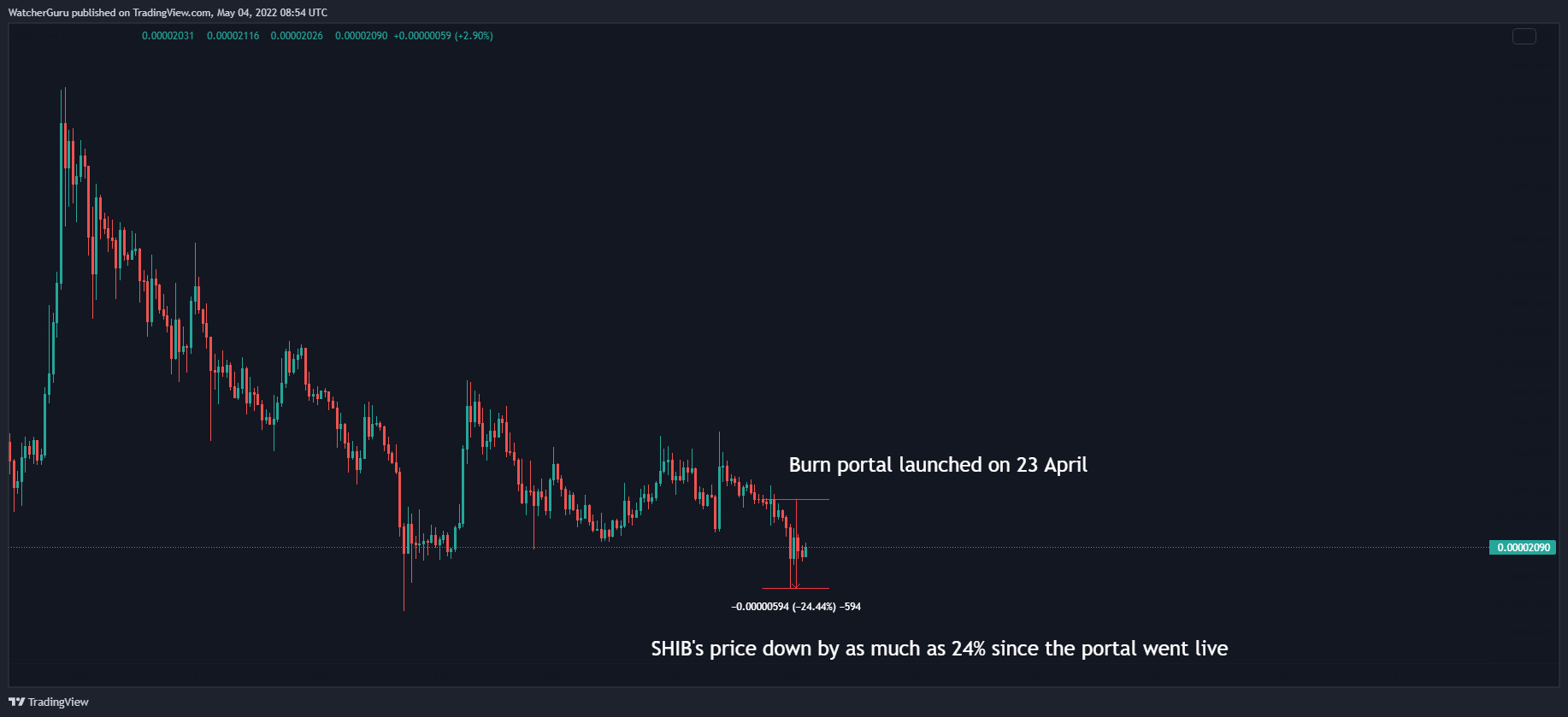 Sidelining Shiba Inu's statement, it is difficult to gauge the impact of the burn mechanism on price. Since the burn portal went live, around 24 Billion tokens have been destroyed, amounting to a value of nearly $500,000. However, broader market losses seemed to have negated any implications of a price increase. SHIB's weekly losses stood around 12%, higher than the average losses made by the top 10 altcoins.