The state of the crypto market has remained almost unchanged over the past day. With Bitcoin slipping below $30,000, most assets were trading borderline in red at press time. Owing to its 0.3% dip, SHIB was seen exchanging hands around $0.000007734. Despite the sluggish conditions, the Shiba Inu community is optimistic about a SHIB recovery. In fact, they expect the asset to attain several milestones on the price front going forward. In this article, we will analyze the prerequisites for SHIB to reach the psychological 50-cent target.
SHIB to $0.5: What are the Odds?
Shiba Inu's aggregate valuation, or market cap is currently around $4.5 billion. Now, for SHIB to attain a price of $0.5, its market cap will have to initiate a multi-fold increase. As far as the math is concerned, Market Cap = Circulating Supply x Price. Using 550 trillion SHIB circulating supply as the basis, it can be seen that the asset's aggregate valuation will have to notch up to $275 trillion, for its price to reach 50 cents.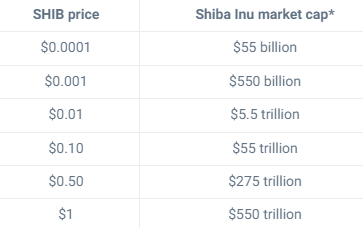 Also Read: Shiba Inu: Can SHIB Make You a Millionaire After Shibarium Releases?
Contextualizing the Rise
To understand the magnitude of the rise required, consider the following:
a) The Q1 GDP of the U.S. stood around $26.53 trillion
b) The total crypto market's cap is around $1.2 trillion today
c) Gold has a market cap of around $13 trillion
d) Apple, one of the most prominent names on Wall Street, is valued at around $3.04 trillion
e) Silver is worth $1.42 trillion
f) Bitcoin, the largest crypto asset, is valued at $583 billion
g) Platinum's aggregate valuation is about $247.4 billion
So, for Shiba Inu's price to reach 50 cents, it will have to surpass today's valuation of gold, silver, platinum, Bitcoin, Apple, etc., and yet have miles to still cover. The $275 trillion pre-requisite seems to be beyond sight at the moment, and it does not seem like SHIB will reach there anytime soon.
Also Read: Shiba Inu Attains New '30 Million' Record