Over the past few days, Shiba Inu has attracted a lot of whale attention. All memecoins have suffered as a result of the ongoing bear market in the cryptocurrency market. Due to a number of variables, the whole crypto market was in the red.
Shiba Inu [SHIB] was clearly impacted by this incident. However, this just pertained to the price. The SHIB network gave development priority, and the community seemed to back it wholeheartedly. The rise of SHIB holders serves as clear evidence of this. The Shiba Inu Eternity game is being ramped up by the crew as they finally make it available to global users.
However, the whales occasionally appear to be acquiring, discarding, and moving whales. Let us look at this anonymous whale with its interesting acquisition pattern.
Whale acquires 1 trillion SHIB, only to dump it later
The Twitter account ShibaPlay has tweeted about a particular transaction of an anonymous whale that transferred 160 billion SHIB to another wallet. Etherscan data reveals that the whale has dumped over 623 billion SHIB over the past 20 days. The anonymous whale had piled upon a trillion SHIB before it planned to sell off the SHIB.
The anonymous whale bought a trillion SHIB on Crypto.com. The whale has then been moving sizeable chunks of SHIB across wallets in separate transactions. It seems to be repeating the acquisition and disposal technique as the transaction history states.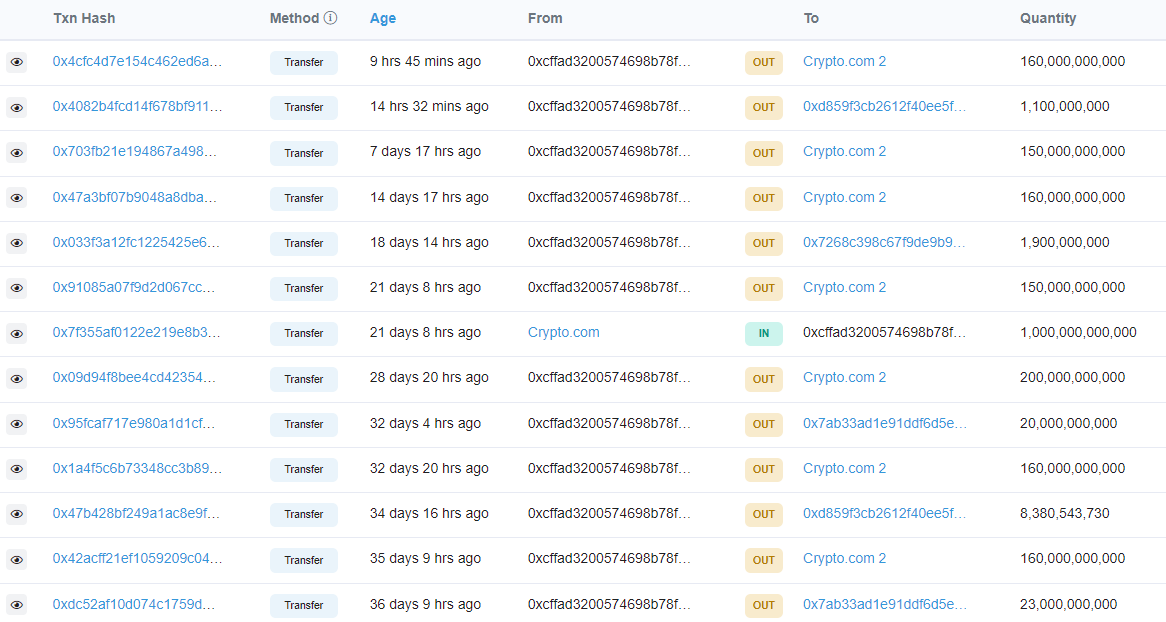 It seems like the whale is utilizing the volatile market over the past few days to bag a sizeable profit with its huge volume of trades.
At the time of writing, SHIB is trading at $0.00001074 as per the data from CoinMarketCap. SHIB is trading 2.36% down in the last 24 hours as the whole market has slumped and is trading in the red.