The official handle of BONE announced a positive feat that the token newly achieved. According to the same, the governance token for the ShibaSwap decentralized exchange entered into the top 100 list on Tuesday for the first time in history. At the time of the announcement, BONE was priced at $1.9.
The said achievement has been unlocked ahead of the Shiba Inu ecosystem's much-awaited Shibarium launch. Notably, BONE will be the gas token for the upcoming Layer-2 network.
Also Read: Will BabyDoge Overshadow Shiba Inu in 2023?
History scripted by Shiba Inu's BONE
At press time, Bone ShibaSwap occupied the 99th slot on CoinMarketCap's rankings list. The 8.8% daily rise and 34.6% weekly rise managed to push the token's market cap above $423 million.
Additionally, according to CoinMarketCap's data, around 12.88 million BONE tokens worth $23.6 million have been traded over the past 24-hours. At press time, Bone ShibaSwap was surrounded by dYdX, Helium, EthereumPoW, and WOO Network's native token on the rankings list. Their aggregate valuations individually hovered in the $434 million to $413 million bracket.

Also Read: Huobi to Soon List Shiba Inu Ecosystem's BONE token?
Is $2 on the cards for BONE?
At the moment, BONE is on the verge of completing a full cycle of profit and loss. The current price at which the asset is priced is synonymous to levels last seen in August-September 2022. Correspondingly, BONE attained a high of $2.39 on the MEXC exchange at that time.
However now, its price is currently being obstructed by the floor of its resistance zone extending from $1.9 to the said high. Also, like shown below, BONE's price has been attempting to break above it since the beginning of this month, but has been unsuccessful in doing so. Even in Q3 last year, a similar scenario had unfolded.
Nonetheless, with the bullish momentum ripening and Shibarium's launch on the cards, the landscape is becoming favorable for BONE to break past the said threshold and continue rallying.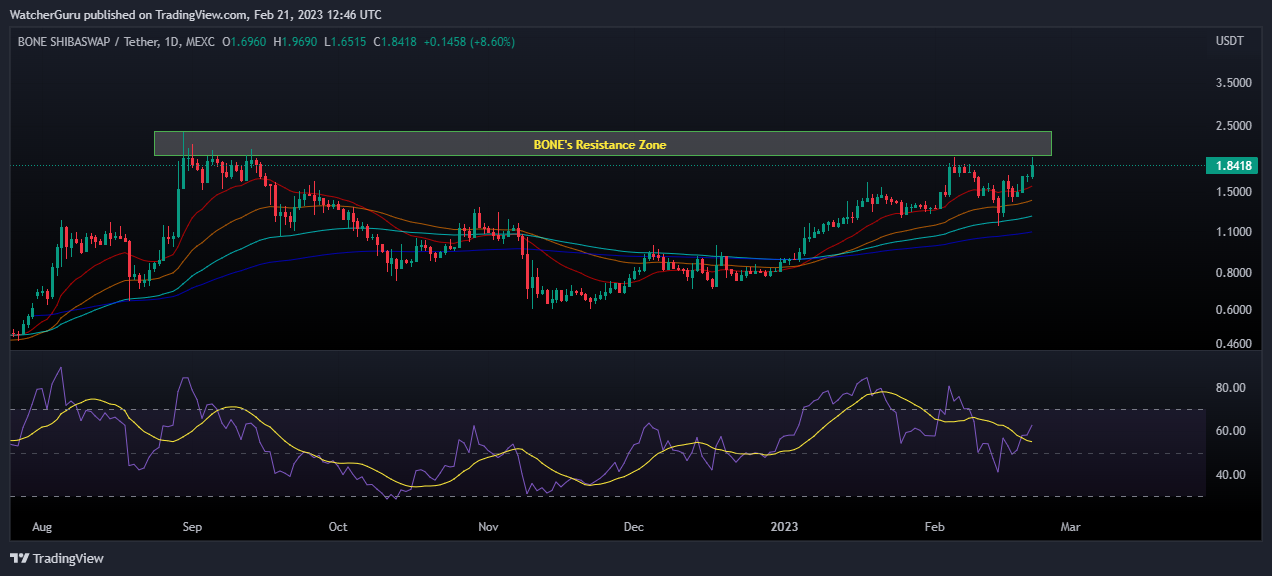 Also Read – Shiba Inu: Shytoshi 'Mentions' Shibarium Release Date on the Latest Blog