Earlier today, Shiba Inu successfully introduced its layer-2 scaling solution, Shibarium. Anticipated to have a transformative impact, this initiative held the promise of elevating the value of both Shiba Inu and its offspring, BONE. Notably, BONE serves as the governance token within the Shibarium ecosystem. Therefore, the bets on BONE were high. Contrary to expectations, there was an unexpected absence of upward movement in the value of these assets.
Currently, Shiba Inu's BONE is being traded at $1.29, displaying a significant decrease from its peak value of $1.7346. Over the past 24 hours, the asset experienced a notable decline of 20% in its daily performance. Despite a considerable 62% increase in trading volume, the market capitalization of BONE witnessed a 20% decline, settling at $297 million.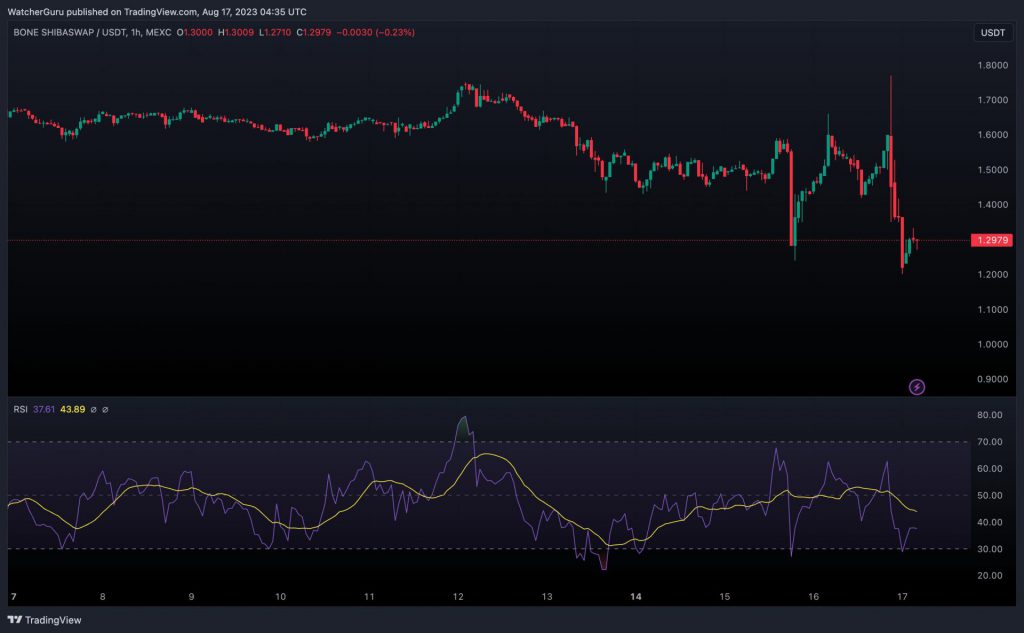 The short-term price chart of BONE clearly indicated a shift in control toward sellers within the BONE market. The Relative Strength Index [RSI] indicator showed a rebound from the oversold region. Nevertheless, with the RSI reading staying below the midline value of 50, a prevailing sentiment of selling pressure persisted in the market.
It's important to highlight that BONE experienced a substantial increase in value. This was amid its listings and the growing excitement surrounding Shibarium. However, when Shibarium's layer-2 solutions were officially launched, the asset did not exhibit an upward movement as anticipated. Additionally, Shiba Inu was trading for $0.00000928 following a 7.86% daily drop. LEASH, another offspring of SHIB, followed a similar trend and dipped by 24.02%.
Also Read: Shiba Inu: Shytoshi Kusama's Shibarium Launch Hint Sparks Transfer of 33 Billion SHIB
Where is all the BONE going?
With a total of 8 validators, 2,749,278.3820 BONE had been staked at press time.

Unification holds the leading position as the top validator with a staked amount of 1,324,990.4126. Following closely are SHIBARMY OREGON and SHIBARMY N.VIRGINIA, with staked amounts of 475,997.3620 and 176,697.8458 BONE tokens, respectively.
In the midst of this development, reports emerged suggesting that transactions on the network encountered a delay of no less than five hours. Shiba Inu's BONE turned to Twitter to explain that the decline in the asset's price was a result of the "temporary unavailability" of Shibarium.
Also Read: Shiba Inu Officially Launches Shibarium Blockchain