ShibaSwap has come a long way since its launch in July 2021. Shiba Inu's native DEX facilitates token swapping and staking, along with other features like liquidity pools, and governance. By doing so, it is already in the competitive waters of other decentralized exchanges like Uniswap.
Per blockchain security ranking platform CertiK, ShibaSwap's safety score currently stands at 95/100. This, in turn, gives the surety that the DeFi protocol's services are secure.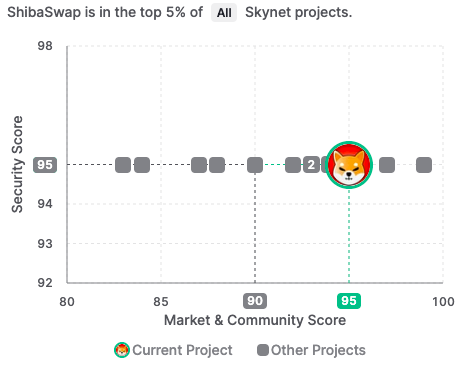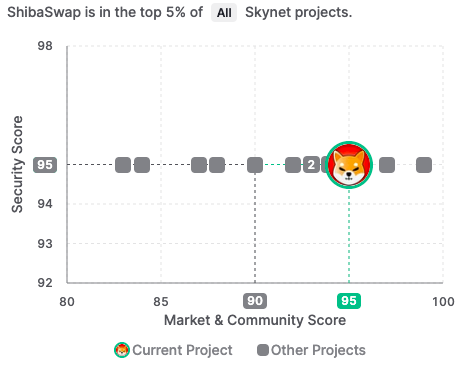 Shiba Inu's ShibaSwap creates new records
Generation Crypto Media's CEO recently took Twitter to share the list of the social signal of the top 10 Ethereum blockchain-based projects. With a signal score reading of 909k, ShibaSwap topped the list. The largest NFT marketplace OpenSea stood next with a score of 770k, while the top NFT collection Bored Ape Yacht Club ranked third, and reflected a signal score of 301k. Other projects like Axie Infinity, The Sandbox, and HEX ranked much lower.
Per data from CoinGecko, Shiba Inu's native DEX's trade volume has been on the rise of late. This means that the exchange has been earning more via trade fees. At press time on Friday, the volume was at a 30-day high of $15.9 million. The closest ShibaSwap's volume was able to get to before today was on 20 July, when it registered $13.8 million.


In fact, data from dapp.com further revealed that ShibaSwap's trade count numbers were also getting refined. At press time, over 3.11k trades were fostered, up by 28.28% over the past day. As illustrated below, the same currently stands at its highest point since the beginning of May.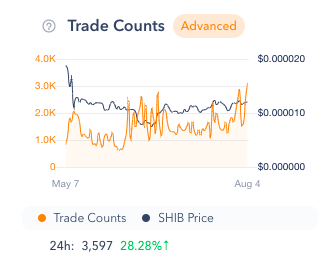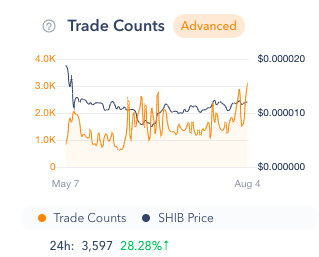 The afore highlighted datasets, in conjunction, bring to light the actual growth of Shiba Inu's native DEX. At the moment, it commands a market share of 0.7%. So, if the numbers keep getting better, and new records keep getting created, then the DEX would gradually start having an even more concrete say in the market.