The community has been eagerly awaiting for Shiba Inu's Layer-2 upgrade, Shibarium, to be launched. Towards the end of January, Shiba Inu's lead developer Shytoshi Kusama changed his Twitter bio to "Quickly learning to play the flute before putting Shibarium in a heart-shaped box with a bow."
Given the outright mention of a "heart-shaped box with a bow," people from the ecosystem started predicting that Shibarium could, perhaps, be released on Valentine's Day. Now that the speculated D-Day is just around the corner, it seems like there's still some more waiting to do.
On a particular Shiba Inu community channel, a user pointed out that the team keeps using the word "soon" instead of getting into specifics. Responding back to the same, the project's lead developer, Shytoshi Kusama said,
"You want an exact date? No… I don't have one because the release won't be an on/off switch."
Right after the message was posted, community members started opining that Valentine's day launch is now "unlikely."
Also Read: Shiba Inu – Is Shibarium Launching on Valentine's Day?
Other Shibarium-related facets
Alongside, it is worth noting that the Shiba Inu developer has already changed his Twitter bio. At press time on Monday, it was merely a period, with no direct or indirect reference to Shiba Inu or Shibarium.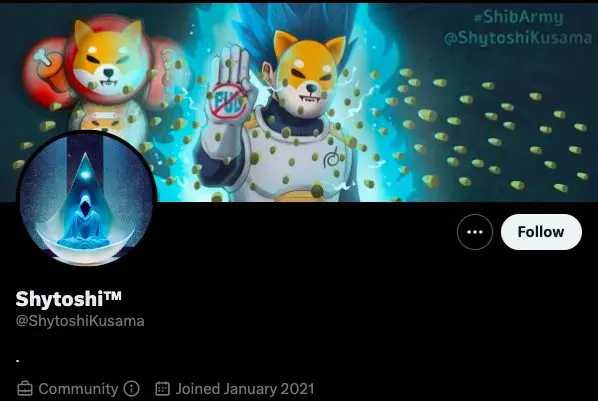 Also Read: Huobi to Soon List Shiba Inu Ecosystem's BONE token?
Here, it is worth recalling that Elon Musk also tweeted a period towards the end of last week. Retrospectively, it did not take time for community members to join the dots and start debating about a host of theories. However, there has been no official announcement from either end as of yet.
Just like most assets from the crypto market, even Shiba Inu's price has been corrected lately. After shedding over 10% of its value over the past seven days, the $7.08 billion worth of asset was seen exchanging hands at $0.00001292 on Monday.
Also Read: Shiba Inu: Is Shibarium Releasing Today?