Inspired by the prominent meme coin, Shiba Inu [SHIB], Shibnobi [SHINJA] landed in the crypto-verse back in November 2021. However, the developers of Shibnobi laid focus on elevating the DeFi space with its multi-chain swap platform, DojoSwap. While the network had previously given insights about the same, the team took to Twitter and revealed the tentative date for its launch.
The big meme coin takeover certainly disrupted the dynamics of the crypto-verse. Even though meme coins were considered nothing but a mere joke for years, the popularity of dog-themed tokens witnessed a ten-fold growth. Riding the bullish bandwagon, Shibnobi emerged as a prominent asset in the market.
More recently, with the intention of revolutionizing the DeFi space, Shibnobi announced the launch of DojoSwap. With this multi-chain swap platform, users would be able to access Binance Smart Chain, Polygon, Ethereum as well as Cronos.
Claimed to be the first of its kind, Shibnobi announced that DojoSwap would make its debut in the coming weeks. The network tweeted,
Elaborating on the prospects of DojoSwap, the CEO of Shibnobi, Cliff Fettner stated,
"DojoSwap will be built on a decentralized automated market maker system leveraging liquidity pools provided by DojoSwap's users to enable seamless blockchain transaction through multiple chains."
Shibnobi bags 40k holders in first 40 days
Within a period of 30 days, Shibnobi's native token, SHINJA managed to surge up to 600%. Despite enduring a price rut, the altcoin continued to soar in terms of popularity. The holders of the token noticed a significant swell from the time of its origin. Currently, there are about 43,932 holders of the token.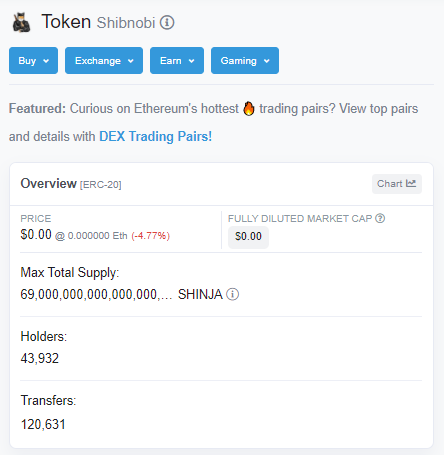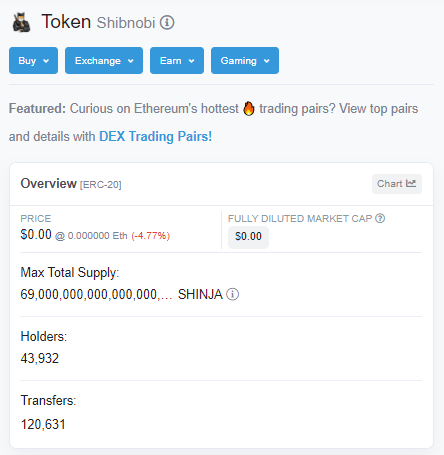 Moving over to its price, at the time of writing, SHINJA was trading for $0.0…09793 with an 18.68% drop in the last 24-hours.
While the meme token frenzy persists, the Shibnobi community hopes that SHINJA would prolong its hot streak. The imminent launch of DojoSwap would certainly provide the required momentum for SHINJA's take-off.