Smeared in red, the entire market has been enduring a downer. Bitcoin [BTC] veered below $40k further making room for chaos in the market. As this bearish trend persists, a jargon that has been quite popular in the crypto-verse has made a comeback. This time, however, this was at its peak.
Following a significant surge, BTC dropped down to $37k earlier today. This dip turned the entire market red and painted the "buy the dip" trend green. According to the on-chain data analyst Santiment, the social interest in purchasing Bitcoin was looming.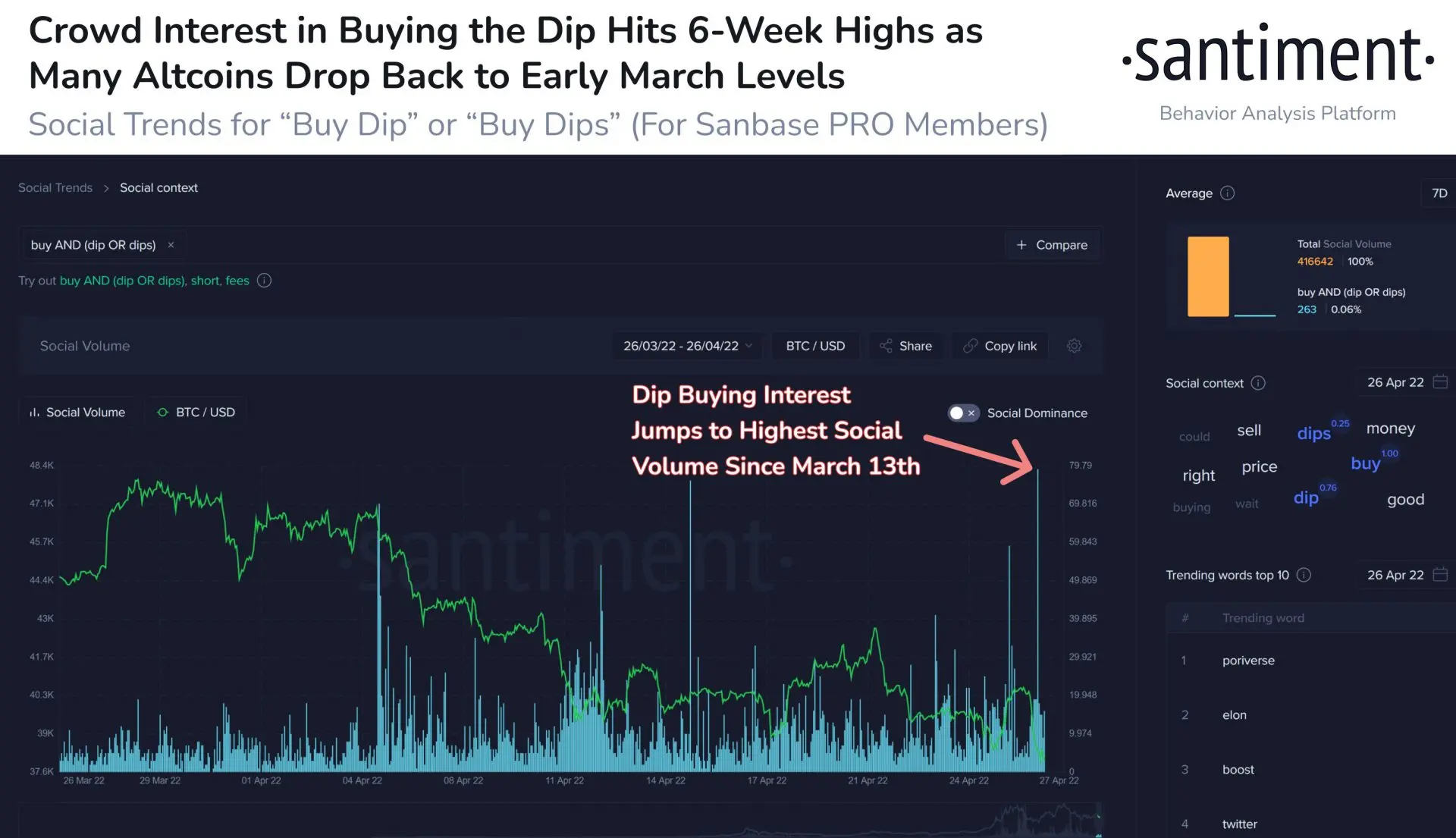 As seen in the image the interest in buying the dip surged to its highest social volume since 13 March 2022.
Elaborating on the same, the platform added,
"Social interest in #buyingthedip has skyrocketed after #crypto's latest pullback. The #SP500 correlation is not working in the favor of the #cryptocurrency sector, and crowd fear will play a large part in the two markets breaking apart from one another."
This was surprising and investors overlooked this trend back in February while there was immense bloodshed in the market.
Will Bitcoin really bring profits to those who buy the dip?
$40k has been a tricky zone for the king coin. Over the last couple of weeks, Bitcoin has failed to establish a strong line of support. However, prominent crypto analyst Lark Davis affirmed that BTC was currently in an interesting place. The analyst pointed out that BTC could bounce back anytime now.
In addition to this, several indicators revealed that buying Bitcoin could bring in short-term gains. The one-hour price chart of BTC/USD displayed a bullish notion.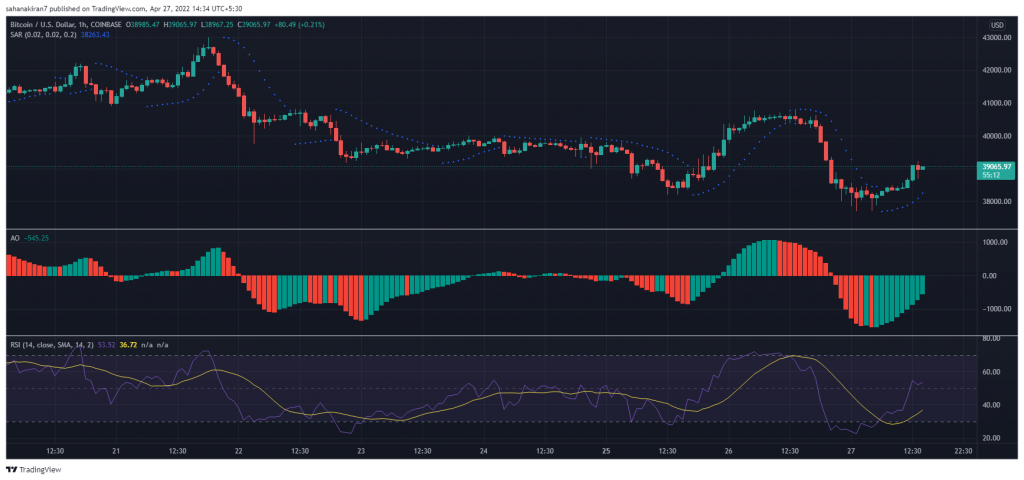 The Parabolic SAR indicator formed a line of support below the candlesticks. This further acted as a barricade against any abrupt drops. The Awesome Oscillator indicator mirrored this sentiment as it laid out green closing bars.
Furthermore, looks like the "buy the dip" was being put to use. The Relative Strength Index indicator revealed that it was a buyers' market. An array of them was bagging Bitcoin.
During press time, Bitcoin was trading for $38,992.70 with a 3.68 percent drop over the last 24-hours.
The market seemed sober with extensive buying activity. But fear was reportedly taking over the market. As of press time, the Bitcoin fear and greed index was at a high of 21. This further revealed that there was "extreme fear."