While the rest of the market was busy tussling with the bears, the Solana network seemed to be dealing with a bigger problem. The network's bad luck streak seems to have been prolonged with regard to recent hacks, and network issues. This time, its Phantom wallet was being employed as a medium for an exploit.
As per recent reports, hackers were airdropping NFTs to Solana users while passing them off as a brand-new Phantom wallet security upgrade. This was further discovered to be malware that was formulated to illegally pocket crypto from naive users. The NFTs that was released was titled "PHANTOMUPDATE.COM" or "UPDATEPHANTOM.COM" in order to deceive users.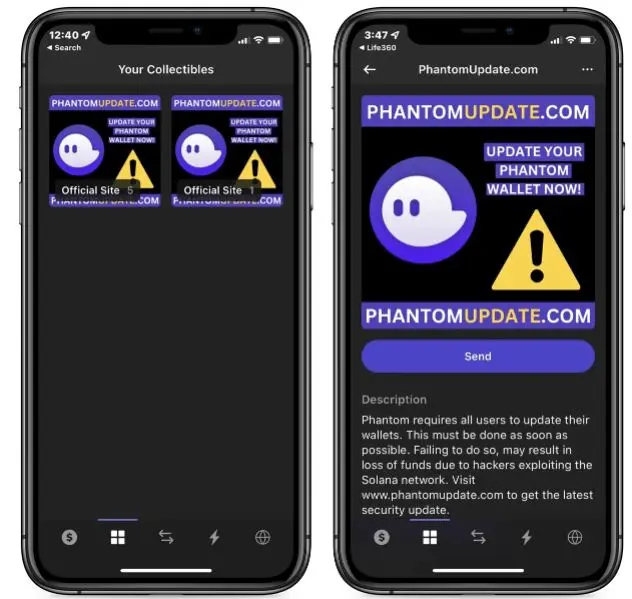 Users were further informed that a new security update for the Phantom wallet was released. The update could be downloaded using the included link or the mentioned website. In addition to this, to trap investors, the update read,
"Failing to do so, may result in loss of funds due to hackers exploiting the Solana network."
Considering the number of hacks that the Solana network has encountered has faced in the past, certain investors would have fallen prey to the latest scam.
If a victim follows the bogus Phantom update instructions, the malware attempts to steal the user's browser data. This includes history, cookies, passwords, SSH keys, and other information downloaded from GitHub.
Will users be able to trust Solana again?
As mentioned earlier, the Solana network has encountered its fair share of hacks and attacks. An attack similar to the ongoing one had previously struck the network. Labeled "Mars Stealer" the malware aimed at pocketing easy funds from users.
Back in August, the network endured an attack that caused 8,000 wallets to be compromised and $4 million to be washed away. Following this, Phantom Wallet decided to step up and roll out a burn NFT feature. Through this initiative, users were allowed to earn rewards in SOL if they reported spam.
Despite the fact that the initiative appeared to be mutually beneficial, the network had to deal with bad actors' ire. This obviously has a negative effect and compels investors to question their trust in the project.