Solana (SOL) has broken out of its descending channel, spiking 5.4% in the last 24 hours. SOL had been on an upward trajectory since mid-June before flipping into a bearish trend a month later. However, the tenth-largest crypto by market cap seems to be turning bullish once again. SOL currently faces resistance at around $25.4, with support around $22.467. SOL's recent breakout was also supported by its Fibonacci retracement level, from which the price recently bounced back upwards.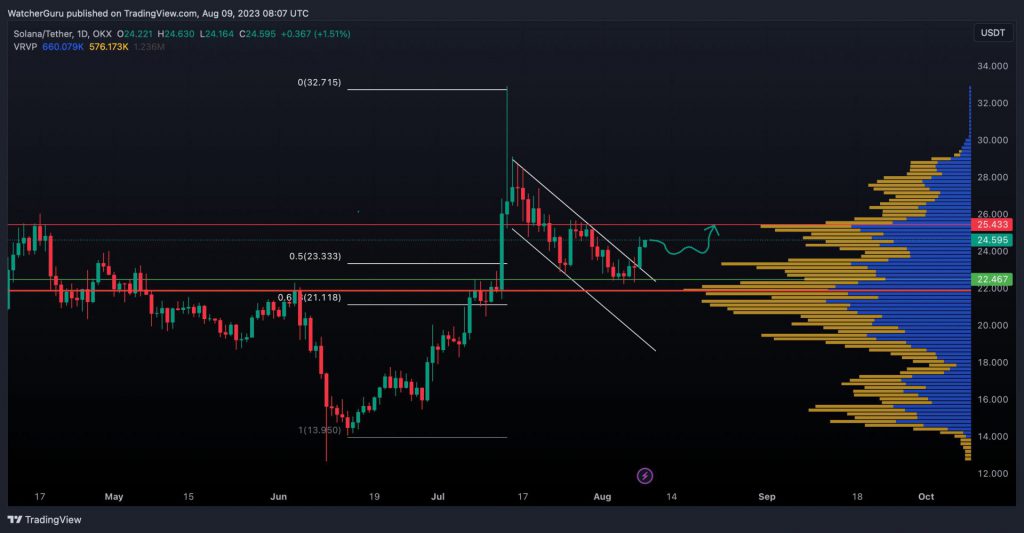 Also Read: Solana vs. Cardano: Who Will Come Out on Top in 2023?
If SOL can close above its current resistance level, the asset could very well test a yearly high of $27.43. This area may prove to be a lucrative zone for booking profits. Moreover, if SOL continues to rally, it may even test $32. SOL briefly tested this level on July 14, but without success. This price point was previously seen in November 2022, right after the collapse of FTX. Solana (SOL) was one of the worst-affected projects in what is now called one of the biggest financial disasters in modern history. SOL's MACD (moving average convergence divergence) on the 4-hour chart also points toward a bullish flip.

Solana's chances of consolidation
There is a chance that SOL could consolidate at current levels. SOL's Relative Strength Index (RSI) currently stands at 51.77, which points to the asset neither being overbought nor oversold.
Moreover, the asset does not have a lot of volume (as visible in the chart above) to sustain being in the $26 range. Therefore, it is vital for Solana (SOL) to close above its current resistance if it is to continue moving forward with bullish momentum.
Although the 4-hour MACD shows bullish pressure, the indicator has yet to confirm the same.

Hence, going by the aforementioned points, there is a chance that SOL could consolidate at its current level if it is unable to follow through with its rally. At press time, Solana was trading at $24.57, up by 0.6% in the last hour.
Also Read: Ethereum Could be a Layer-2 for Solana: Co-Founder