Solana-based NFT marketplace, Formfunction recently announced that it will no longer continue to operate and it will officially shut down on Wednesday, March 29. The official Twitter announcement read,
"This was an extremely difficult decision; however, after much discussion and careful consideration, we've come to the conclusion that we cannot continue to operate Formfunction."
Furthermore, the Formfunction team will be "making it easy" to export a hashlist of all NFTs users have created. That will help creators continue to display and sell their collectibles on other platforms. However, all existing pieces have to be "de-listed" before the shutdown date.
It is worth recalling that the platform raised a $4.7 million seed round in March last year. That was led by VC firm Variant Fund and had contributions from others like Solana Ventures, Canonical Crypto, Pear VC, Palm Tree Crew Crypto, and OpenSea Ventures.
Also Read: Bitcoin vs. Solana, XRP, MATIC: What Are Institutions Buying Now?
An overview of Ethereum, Solana, Polygon, BNB Chain Cardano Weekly NFT Sales
NFT sales on the Solana blockchain have been on the decline over the past week. Data from CryptoSlam revealed that even though the number of buyers registered a 387% incline, the sales shrunk by 12.7%. That was accompanied by a parallel 5.4% drop in the number of transactions.
Ethereum's state was also quite similar. The sales and transactions dropped by 15.7%, and 44.2% respectively in the 7-day window, while the number of buyers rose by 285.8%.
On other blockchains like Polygon, BNB Chain, and Cardano, numbers on all fronts have risen over the past week. BNB Chain's 738.8% rise in the number of buyers, and 90.1% rise in sales managed to stand out and steal the limelight. Polygon and Cardano, on the other hand, noted comparatively moderate inclines, as illustrated below.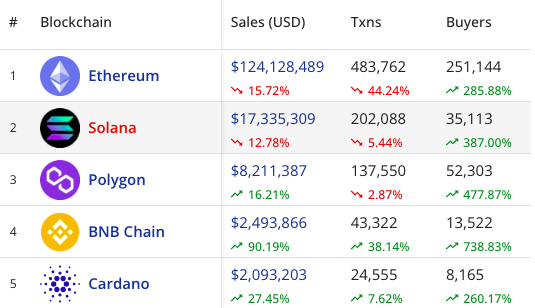 Also Read: Baby Doge Emerges As 'Top' Trending Coin Binance: Shiba Inu, Bitcoin Follow