The trends in the crypto and NFT market, to a fair extent, go hand-in-hand. Until now, most euphoria and FOMO phases have sort of coincided with each other. Currently, with cryptos recovering, even the NFT market has gradually started allowing sunlight to enter its yard.
Solana the odd one out?
Per data from CryptoSlam, the NFT sales on most top blockchains noted substantial rises over the past 24-hours. On Ethereum, the volume was up by close to 40%, while on other protocols like Flow, Ronin, Polygon, WAX, and Tezos, the number was up by three digits.
Solana was, however, the odd one out. In the same time period, the sales dipped by more than 30%. However, it is interesting to note that the number of buyers and the transaction size on Solana were among the highest when compared to its peers. The same can be evidenced below.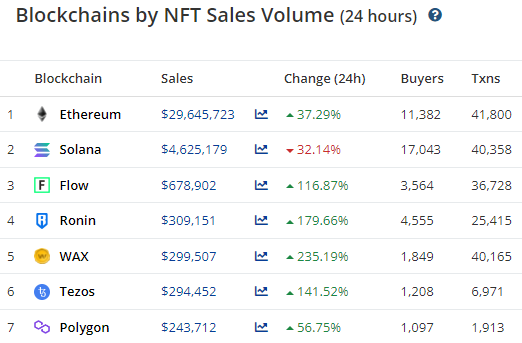 Further, as illustrated in the chart attached, the number of unique buyers has been making higher lows since the end of April, which is a fairly good sign. Basically, on 30 April, there were only 7.6k buyers, but on Tuesday at press time, the number was up to 12.4k already.
However, the afore-highlighted datasets depict only one side of the coin.

In the said period, the number of sellers has substantially increased on the platform. At press time, there were more than six sellers for every buyer. To be more clear cut, in the month of May, the cumulative number of buyers stood at 161k, while there were more than 1.061 million sellers.
At this stage, it wouldn't be wrong to infer that the people willing to dump their NFTs are more than the ones collecting HODLings for their utility. The said discrepancy, on any given day, is not welcoming. So, more buyers ought to be welcomed, and only then would Solana standing right next to Ethereum at the second spot make sense.