This week in crypto town, chaos was the dominant theme. FTT experienced a substantial decrease, and a number of other assets followed suit, causing the market to turn red. Amidst this bloodbath, another asset apart from FTT, Solana [SOL] suffered gravely.
At press time, Solana was trading for a low of $20.10 following a 28.16 percent daily drop. Over the last couple of days, the altcoin witnessed a 37.09 percent fall. Along with this, the total value locked in Solana also plummeted.
At press time, the TVL of SOL recorded a 34.35 percent plummet that pushed the number to $561.8 million.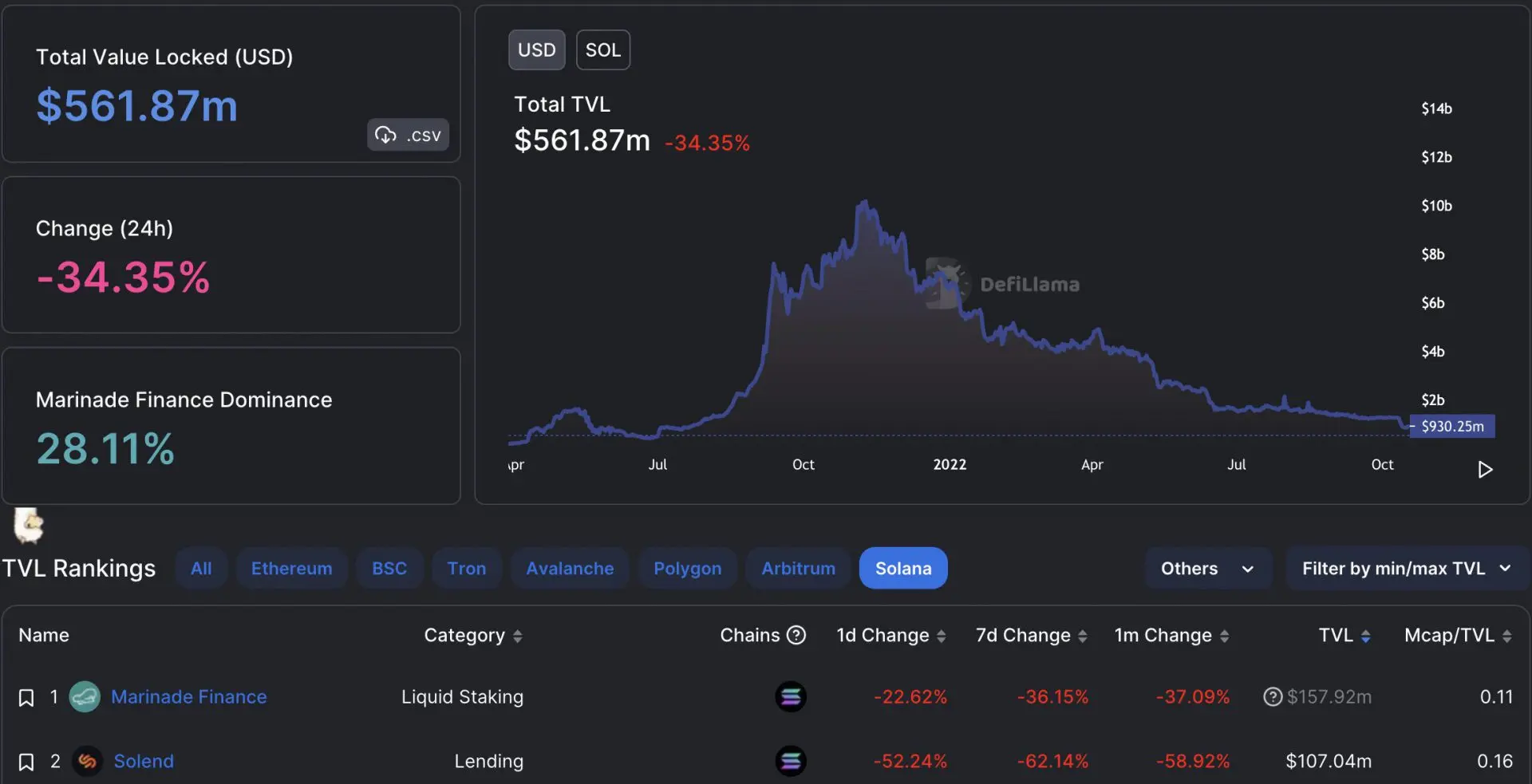 As seen in the above image, the network's prominent lending platform Solend was recording a 52.24 percent daily drop. This further pushed the network's TVL to a low of $107 million.
In addition to this, Solana's liquidatable value change was at a negative 96 percent.
The asset's market cap took a backseat as well. SOL dropped down the crypto ladder as its market cap was noted to be $7.31 billion. Due to this, SOL was no longer part of the coveted top ten.
But why is Solana plummeting?
As mentioned earlier, the whole FTX – Binance saga has taken a toll on the entire market. Amidst this, fear around Alameda Research dumping SOL loomed over the market.
It should be noted that Alameda reportedly holds $292 million of "unlocked SOL," $863 million of "locked SOL," and $41 million of "SOL collateral." These were the details presented on the firm's balance sheet. With this at play, several have been speculating that Alameda could dump its SOL holdings in order to generate additional liquidity.
In addition to this, a Solana whale, 3oSE9CtGMQeAdtkm2U3ENhEpkFMfvrckJMA8QwVsuRbE was said to be in liquidation. At present, the whale entailed 2,450,418.5 SOL which is worth $51 million in collateral. Along with this, the whale had 44,871,609.6 USDC in debt.
A few others took to Twitter and noted how Solana needed more supporters.
Cleaning season was back in, several others suggested. The crypto community pointed out that only real builders would survive such storms.