Stellar has historically shared a tight correlation with XRP. On several occasions, they have collectively registered uptrends and downtrends. In fact, XLM was the biggest beneficiary when Ripple won the lawsuit against the SEC. On the back of XRP's rise, even XLM soared and went on to create a high of around $0.1977. The bond between the two assets continues to be strong. At press time, XLM was more correlated to XRP than Bitcoin or Ethereum.

Also Read: Ethereum is Down 30% Against Bitcoin As Vitalik Buterin Moves 600 ETH
Is Stellar Market Sentiment Bearish?
During last week's flash crash, Stellar lost a substantial chunk of its value. Yet, the asset has already recovered by 20%. However, on the weekly timeframe, the downtrend was evidently visible, indicating that the bearishness still persisted in the market.
From a technical perspective, Stellar is currently trading at a level around which it strongly resisted during Q2 and Q3 2022. However, this price flipped to support in mid-July 2023. Thus, the next few trading sessions will hold the key to determining the fate of XLM.
Indicators from the derivatives market pointed out that bearishness would likely prevail. The funding rate was still negative at press time. Furthermore, the long:short ratio was negative. At press time, 41.41% of the bets placed were bullish, while 58.59% were bearish. In fact, even on the social mentions front, the bearishness associated with XLM had registered a 116% rise.
Thus, if the bearish momentum continues, then traders can keep an eye out for $0.1107. However, in the event of a bullish flip, XLM can be expected to reach $0.1357 and continue marching forward.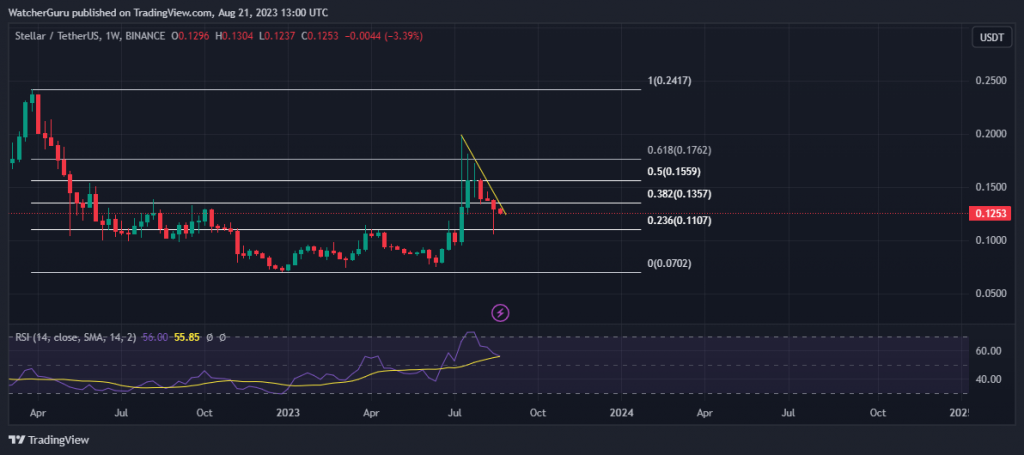 Also Read: Friend.tech Earns $1.42 Million Fee: Beats Bitcoin, MetaMask, Solana