Terra blockchain's native token LUNA reached a new all-time high of $69.66 over the past few hours. LUNA is one of the rising DeFi platforms of 2021, and over the course of Q4, its price performance is truly admirable.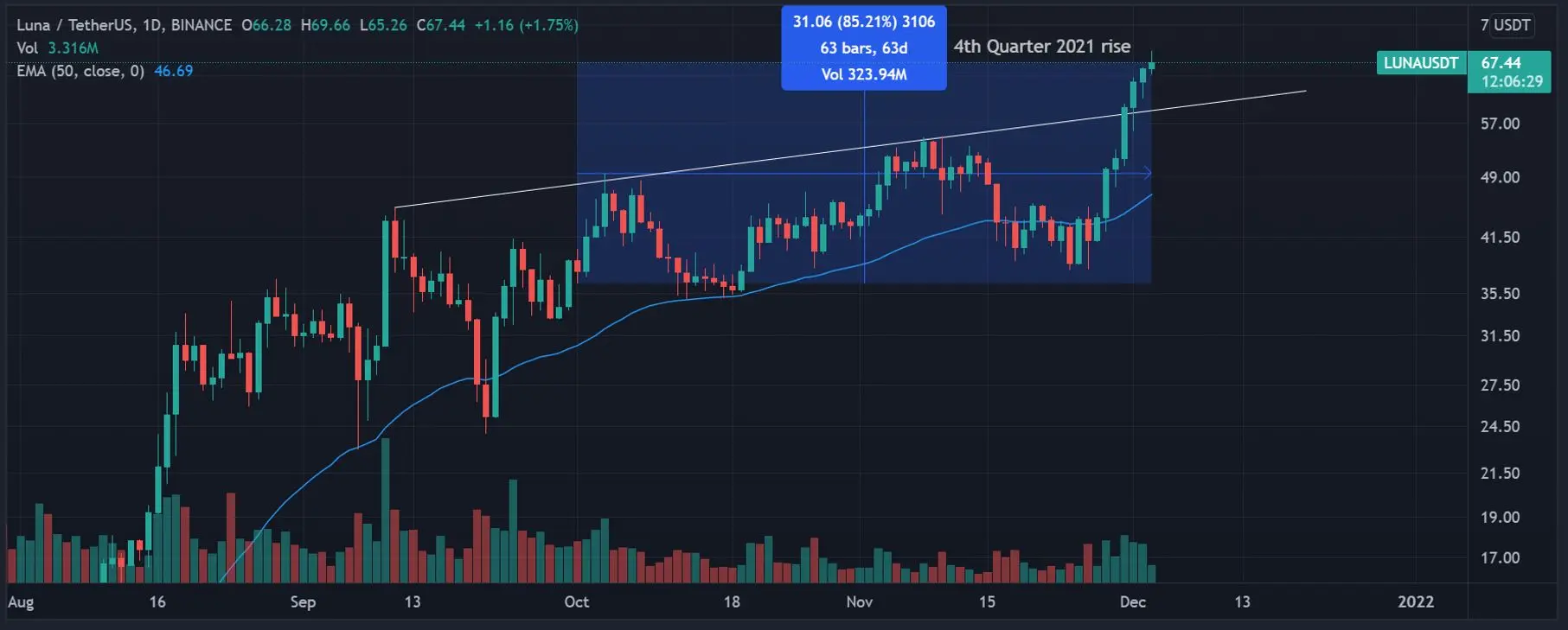 The native token has registered a surge of 85% since the beginning of Q4 2021. At the moment, it continues to rise and it recently breached another incline resistance, as observed. However, the intrinsic value of Terra as a network may indicate LUNA's true value potential.
Terra chain; An algorithmic-backed stablecoin UST driving Web3 adoption?
Terra's ecosystem comprises a sold objective in hand. Its stablecoin TerraUSD or UST is the first algorithmic stablecoin built for e-commerce. It is being termed as DeFi dollar but it differs from other stablecoin assets. Unlike Tether, UST issued on Terra receives support from its native token LUNA. For instance, in comparison, USDT receives is backing from non-crypto currency deposits. There is an absence of over-collateralized crypto which reduces market volatility.
In addition to that, Luna also has a Euro stablecoin, EUT, a Canadian dollar stablecoin, CAT, and a Japanese yen stablecoin, JPY. Therefore, the long-term emphasis is clearly on increasing the feasibility of cross-border payments.
Similarly, analytics indicates its development activity rate matches its price performance. Overall, It was not a dead project whose prices were manipulated by whale traders.
The DeFi angle?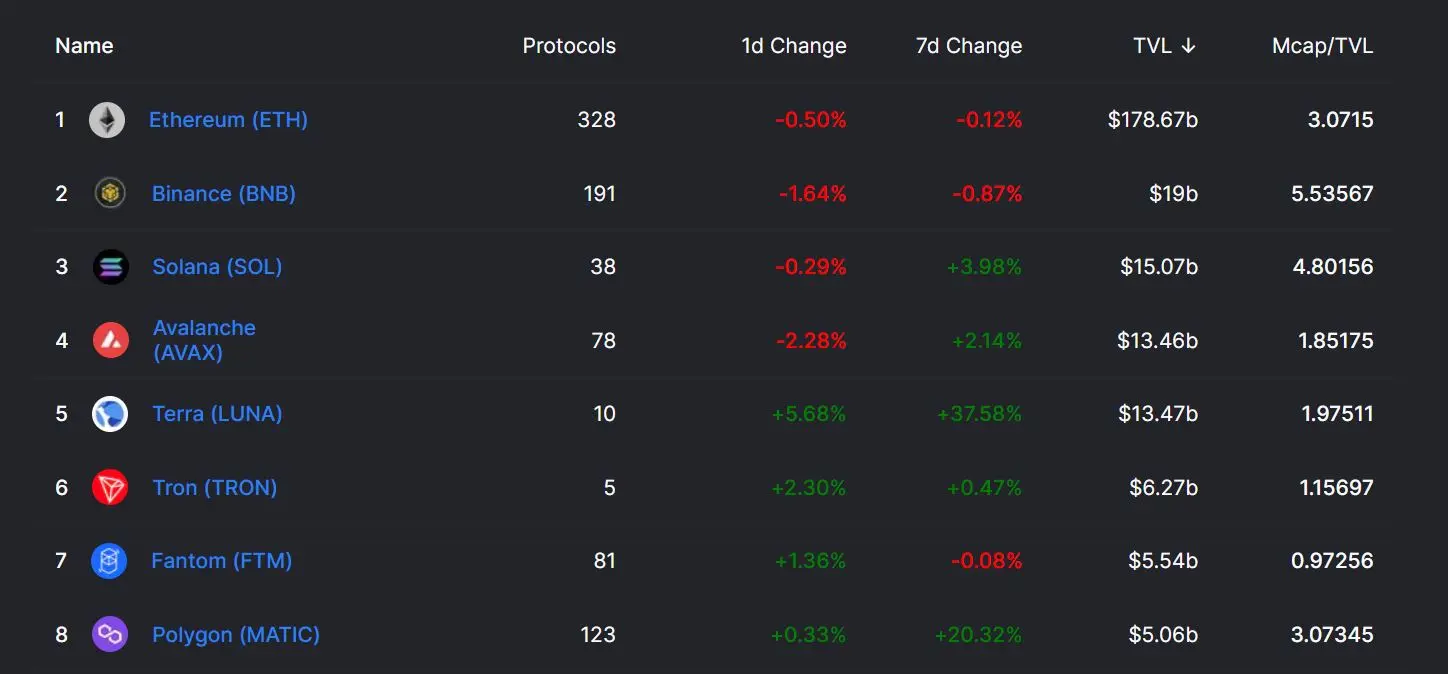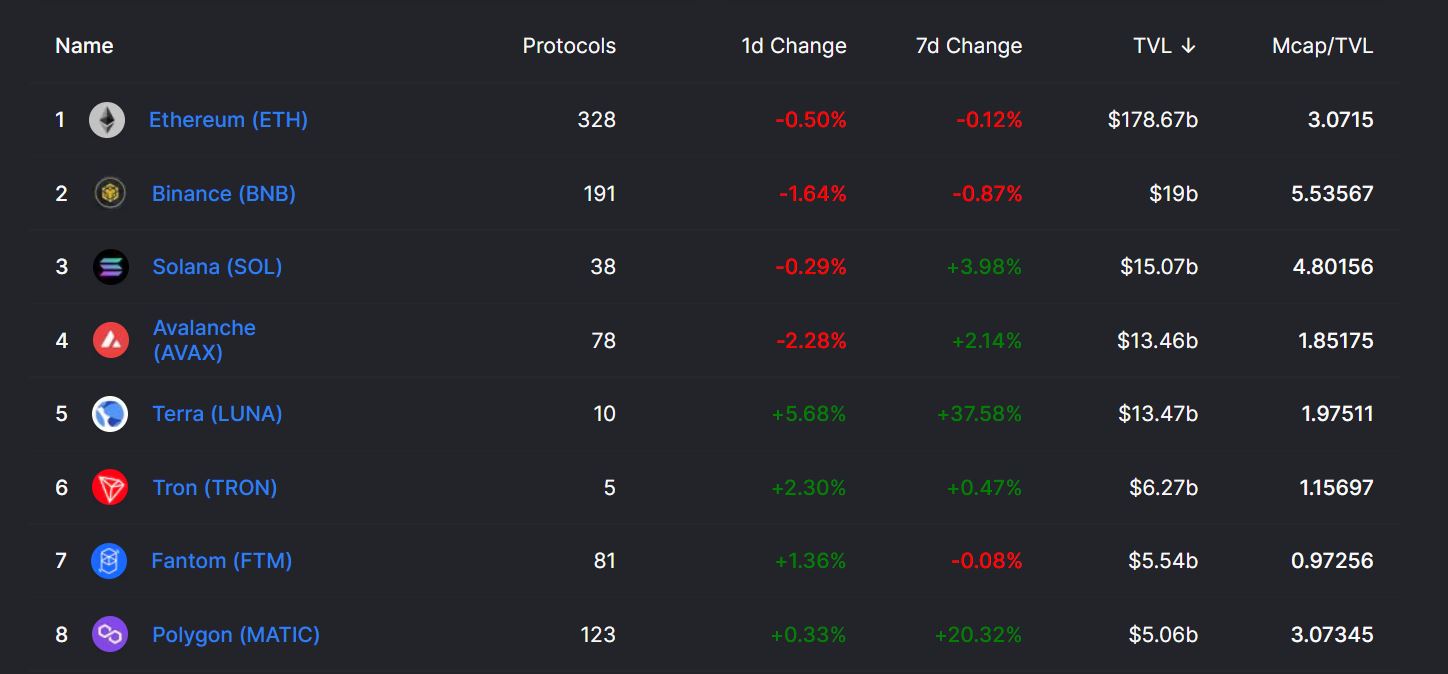 Terra is building towards providing DeFi services as well, and according to DeFi llama, its total value locked or TVL is $13.4 billion. The DeFi potential is also impressive since its Mcap/TVL is the 3rd lowest. A low Mcap/TVL meant that the blockchain had room to grow in the DeFi ecosystem. For instance, BSC and Solana blockchain had a value of 5.5 and 4.8 respectively. Hence, Terra can potentially reach that level and LUNA's price will grow by another 3-5x.
While a lot of these projections are theoretical, Terra's intrinsic potential does make it a valuable project for the future. LUNA's price will possibly undergone further price discovery in the future.