TerraUST got depegged and as a result, plummeted to $0.40 in just a day. As UST knocked off the USD peg, the next wretched casualty was Terra (LUNA) as it fell 99%. Terra, which was rock solid under the 'top 10 cryptocurrencies list' for over a year, is now positioned at 64th. Further dips can remove LUNA from the 'top 100 list' and spiral its way further down the list. However, a section of investors believes the TerraUST crash was a coordinated attack by banks and insiders on the crypto market.
Caetano Manfrini, the legal officer at GEMMA, a Brazil-based crypto firm tweeted that the TerraUST crash "was deliberate and coordinated."
"Today's attack on Terra-Luna-UST was deliberate and coordinated. Massive 285m UST dump on Curve and Binance by a single player. Followed by massive shorts on Luna and hundreds of Twitter posts. Pure staging. The project is bothering someone. On the right path," he tweeted.
For the uninitiated, the TerraUST crash first played out after a mysterious whale dumped $285 million UST and sent it off-balance. The large dump was made between May 7th and 8th. The sheer volume of the dump threw UST off its 1:1 USD peg. UST moved to $0.98 after the dump and opened doors for a freefall. The enormous sell-off was made on the Curve and Binance app by a single large player and the token eventually went off the rails.
Once UST got depegged, many big players played massive shorts sending it on a downward spiral. There was no coming back to safety from here. Investors knew that it would crash further and stayed out of it to protect their finances.
Was TerraUST Crash Coordinated By Banks?
Many in the market believe that banks and insiders plotted and coordinated the TerraUST crash. "No, we aren't imagining things. This is no "conspiracy theory". Right in your eyes! They're attacking Terra," tweeted a user.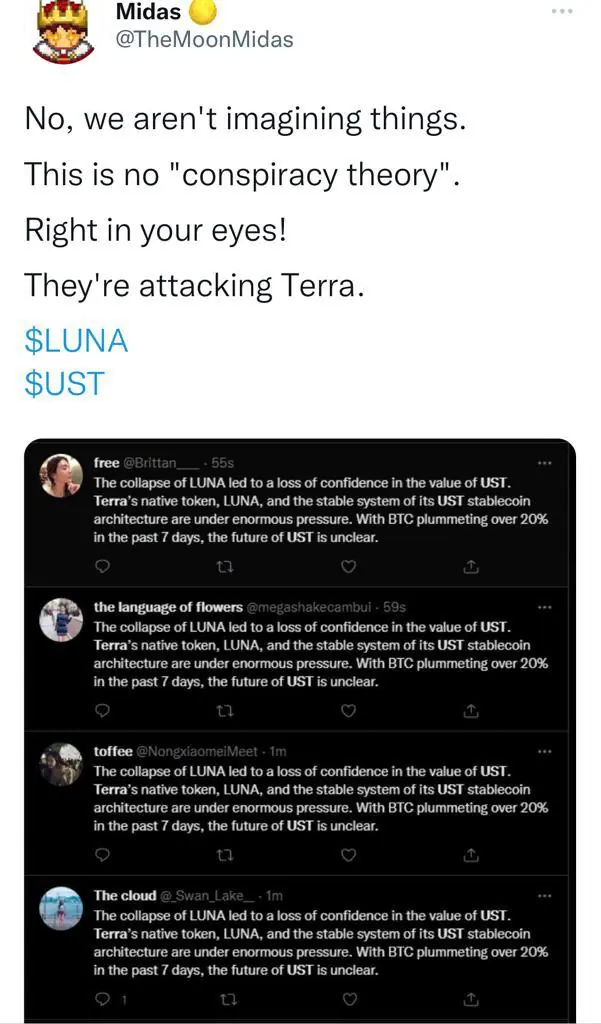 "BECAUSE THE ECOSYSTEM IS SOLID. THE ATTACK WAS DELIBERATE BY GOV AND BIG BANKS. #TERRA = SELF BANKING," wrote another user.
Even crypto analyst David Gokhshtein tweeted, "Attack on $LUNA was an attack on #crypto."
So were TerraUST and LUNA deliberately attacked? Well, there is no proof of that claim. Not many details about it are out in the open and remain to be social media hearsay.