As multiple resistances became irrelevant and supports were broken, LUNA embarked on the journey of its great grand downfall. Exactly five weeks back, on 5 April, Terra's native token was at an ATH peak of $119.5. Lo and behold, it already crashed below $0.4 and was down on its knees to $0.3400 at press time.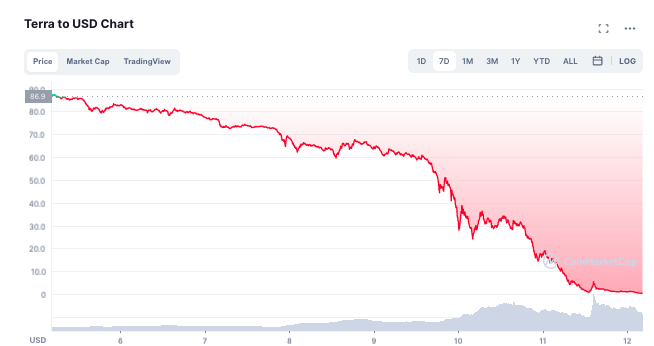 Terra ecosystem's stablecoin—UST—too was in a fix, far from its $1 peg. At press time, it was merely worth $0.64. Having said that, it should be noted that UST's state on Thursday was fairly better when compared to the lows at which it stood the day before [$0.225].
LUNA steps down for UST's sake
Yesterday, Terraform Labs' founder Do Kwon outlined his novel rescue plan to re-peg UST. Via a Twitter thread, he told that the only path forward was to absorb the stablecoin supply that intended to exit before UST could start to re-peg. He added that there was no other way out after accepting the community proposal. He said,
"The price stabilization mechanism is absorbing UST supply (over 10% of total supply), but the cost of absorbing so much stablecoins at the same time has stretched out the on-chain swap spread to 40%, and Luna price has diminished dramatically absorbing the arbs."
The proposal, on its part, highlighted that allowing more efficient UST to burn and LUNA mint would put pressure on the latter's price in the short term but would be an effective way to bring UST back on track.
LUNA minting has already begun and over the past day, the circulating supply has witnessed a massive jump from 377.5 million to a whopping 1.46 billion. If minting out of thin air continues at this pace, then LUNA would perhaps become entirely valueless soon.
Well, Terra of course cannot save both—the UST peg, and LUNA's price—at the same time. With UST being chosen as the favorite kid, LUNA, without an option, has stepped down for UST's stake.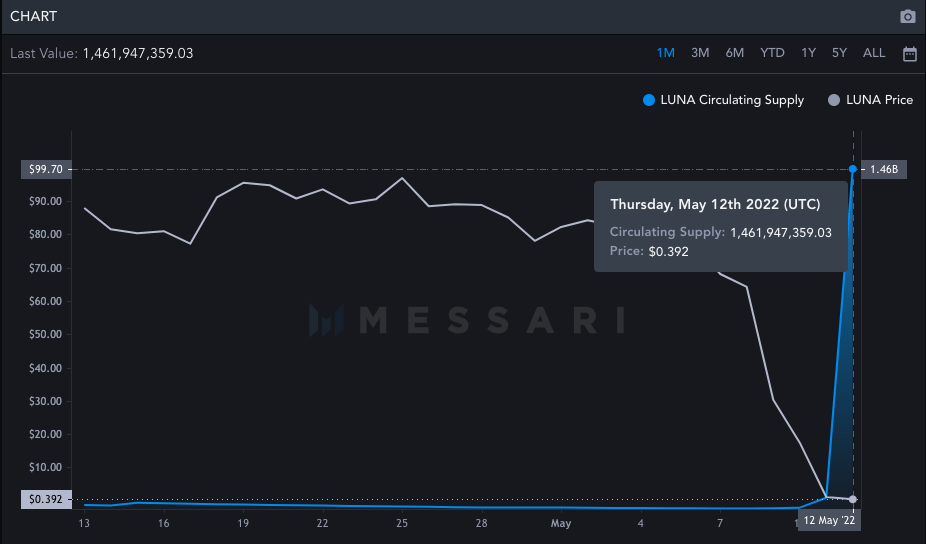 The joke is on Kwon
With the price of both the assets far from stabilizing, a Do Kwon video from 8 days back has started doing the rounds on social media. In a recent interview, he mockingly stated that 95% of the coins from the space were going to die. He was quick to add that there was "entertainment" in watching companies die.
With his project's coins sinking already, looks like the joke is on 'stablekown' now!