Stablecoins are an integral part of the crypto ecosystem. The top 3 stablecoins, Tether, USDC, and Binance USD, have a cumulative market cap of $138 billion. To maintain a stable value, the said assets must be backed by liquid assets at all times. It's known that Tether, on its part, intends to buy U.S. Treasury bills and reduce its depends on other financial instruments like commercial papers.
Read More: Tether Commercial Paper Holding to Drop to $3.5 Billion by July 31
Resultantly, stablecoin issuers have increased their footprint in the US Treasury market. According to a recent Financial Times report, stablecoin issuers like Tether and Circle now hold $80 billion of short-term US government debt. Resultantly, they have more government debt than traditional companies like Warren Buffett's Berkshire Hathway.
Elaborating on the same, Financial Times' report noted,
Tether and its peers accounted for 2 per cent of the market for Treasury bills — debt instruments that are commonly used as a cash equivalent on corporate balance sheets — as of May, according to research from JPMorgan, more than the proportion owned by Warren Buffett's investment behemoth Berkshire Hathaway.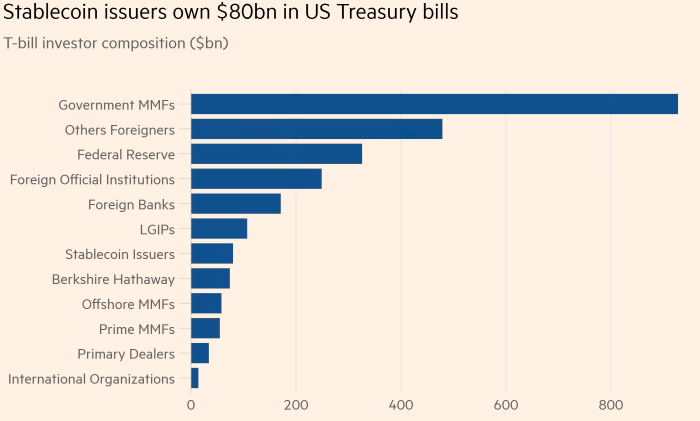 Furthermore, it is worth noting that, per JP Morgan, the newer issuers have "considerable room to grow should stablecoins become a form of digital payment."
The 'dramatic' shift
Tether's market cap has shrunk from more than $80 billion in May to below $70 billion. But, despite the micro-hiccups, Circle's USDC has been steadier, with around $50 billion in issue. Per JP Morgan,
"We believe one of the primary drivers behind the dramatic shift has been the superior transparency and asset quality of USD Coin's reserve assets."
Of late, however, the supply of whales HODLing USDC has been diminishing. Per Glassnode, it stands at a 22-month low of 87.6%.
The said dip could mean that prominent participants are either diverting their funds from USDC to other assets or selling their stablecoins HODLings.
The cumulative number of deposits to exchanges remains low at this point, but the transactional volume has been hovering around its 3-year high.
In fact, per the net flows, quite a big chunk of USDC was sent to exchanges last week, making the speculative pendulum incline more towards selling than merely shuffling.