Tokens from the gaming and meta-space have managed to carve a niche for themselves in quite a short period. Until a couple of years back, Enjin Coin was perhaps the only mainstream gaming-centric crypto that people from the community had eyes on. Fast forward to last year, Axie Infinity managed to make it to the spotlight during its rally phase that commenced in mid-July, while the likes of Decentraland, Sandbox, and Gala stole AXS's thunder during the last couple of months.
As the broader market's cumulative worth continues to revolve around $1.83 trillion, tokens from this genre have started derailing from their uptrend tracks. Barring the leader MANA, other top tokens have noted substantial dips over the past week. A couple of them have tried recovering over the past day, but haven't been able to flash impressive numbers on their charts.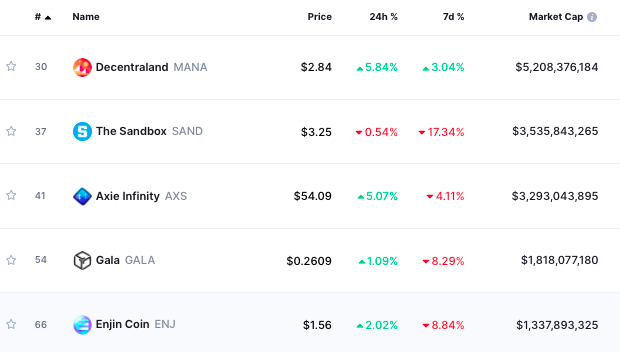 Nonetheless, whales spring into action
Now, amidst the tumultuous environment, the whale diet has become meta/gaming token inclusive over the past day. The top 1000 Ethereum whales have purchased three tokens from the said category lately.
Whale-data aggregating platform WhaleStats brought to light that 633 MANA tokens worth $1707, 3401 GALA tokens worth $879, and 193 ENJ coins worth $293 were bought by the Ethereum rich list on Monday.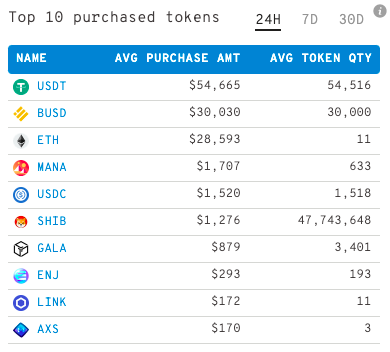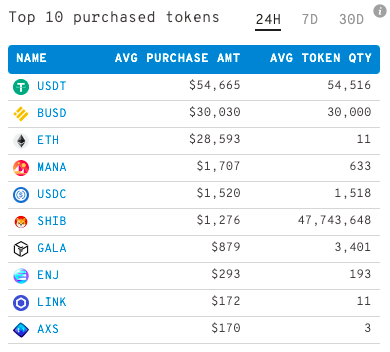 Why meta/gaming tokens though?
Here it is important to note that neither of the three coins [MANA, GALA, ENJ] is trading around their ATHs [$5.9, $0.84, $4.84] at the moment. Despite that, these coins have been able to fetch their investors pretty good yearly returns.
As per data from Messari, Enjin Coin investors have reaped 161% yields on their investments over the past year. On the other hand, SAND and MANA HODLers have been fetched with whooping 912% and 804% returns in the same timeframe.
Thus, at this stage, it wouldn't be wrong to assume that Ethereum whales might be taking advantage of the quivery state of the market by accumulating the said meta/gaming tokens in their respective long-term portfolios.