The crypto space is still letting the Solana wallet hack news sink in. As such, the private keys were compromised yesterday, and consequentially funds were drained out of users' addresses. The initial waves of panic and chaos did cause dents in the Solana ecosystem. However, as analyzed yesterday, with things cooling down and fear receding, things now seem to be back under control.
Read More: Solana: How did the Ecosystem react to the Wallet Hack?
SBF bets on SOL
Despite the hack, FTX's exec, Sam Bankman-Fried, remains bullish on Solana. In a Fortune exclusive interview, SBF opined that Solana's SOL is the most "underrated token right now … at least as of a month ago."
Of late, Solana has been trading around $40. However, last month, it stopped at a low of $25.7 on exchanges like FTX. Resultantly, user gains made during the recovery period in March-April were almost nullified.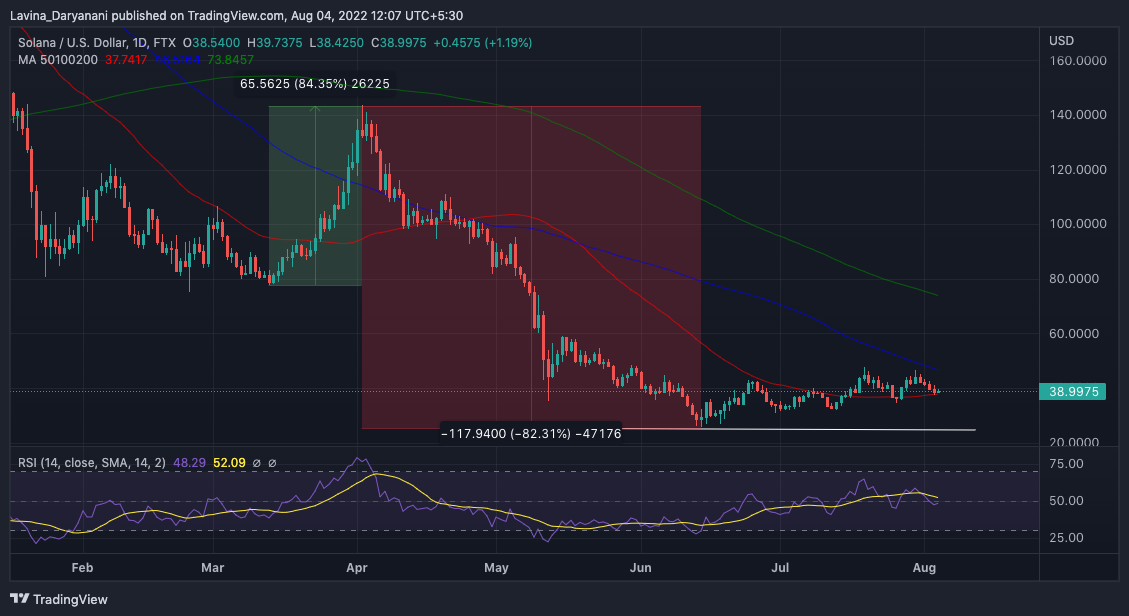 The hack, however, did not change the exec's stance. In an e-mail to Fortune post the hack, he said,
"This wasn't a core blockchain problem, likely seems like one app someone built was buggy."
As revealed in an earlier article, the hack did not stem from a vulnerability on Solana's blockchain. Still, it was tied to Slope Wallets and the accidental transmission of private keys' data.
Read More – Solana hack: No Network Breach but Slope Wallets compromised
Leaving aside the recent hack, the Solana network has been a victim of several network outages of late. Despite the said hiccups, SBF said he saw growth potential for Solana. Outlining how the ecosystem was in the midst of a technological shift, he said,
"I think it had a lot of bad PR over a short period of time—I think it sort of deserved that, to be clear: Technologically, it had a lot of shit to work through. But, I think it has already worked through two-thirds of that. I think it will get through the other third."
Solana's growth
Despite the said hacks, it should be noted that Solana's 1.10 update has aided the blockchain improve its performance significantly. Elaborating the same on a Twitter thread, newsletter alpha please's author said,
"You can see the impact on performance here. TPS is consistently back above 2.4k and there have been no chain incidents since the update."

The v1.10 series, as such, continues to roll out slowly, and the subsequent release series, v1.11, is set to focus on making QUIC default and optimizing the other features included in the v1.10 series.
Alongside, Solana's adoption is on the rise, and the daily transactions carried out on the blockchain have been consistently rising in 2022, despite the macro sluggishness. Also, it is known that transactions executed on Solana are much more cost-effective than Ethereum, which, in turn, has acted in favor of the network's adoption.
Furthermore, other metrics like the daily active addresses and the unique fee payers have also been noting a macro-rise, re-emphasizing Solana's growth has been chiefly organic and has gotten refined with time. Commenting on similar lines, SBF said,
"… anytime you test the limits of what's possible, that's when you figure out what breaks. Any blockchain would have broken if it tried to do what Solana had done, and this was a way for it to figure out what needed to be refined and what needed to be improved."
What could Solana have done
Despite having conviction in the project, everything is, of course, not peachy. A few things could have been catered to earlier, per SBF. Outlining the same, Fortune's report outlined,
"While he did "wish" that Solana's past "validator issues" had been resolved earlier—and acknowledges this "probably" could have happed—the project's habit of pushing the boundaries and seeing what breaks is "what blockchains should be trying to do right now in order to grow," SBF said."
However, it should be noted that SBF is not entirely unbiased with its opinions because it has investments in the Solana network, directly or via his companies. SBF-founded trading firm Alameda Research participated in a $314 million funding round for Solana Labs in June 2021. Alongside, the exec is associated with Solana's native DEX Serum.