During the late hours of Wednesday, the broader crypto market started tumbling. The meltdown was evidently led by Bitcoin. In effect, most of the altcoins followed suit. In fact, coins from the meme category remained soaked in blood even at the time of writing. Top coins like DOGE, SHIB, and ELON had shed 9%-12% each on the daily timeframe.
Apart from the aforementioned coins, other prominent 'impersonators' felt the pinch harder. Take the case of Shiba Inu's [SHIB] name-twin, Shiba Fantom [SHIBA] itself. In just the last 24-hours, this coin has shed close to one-third of its value [32.36%, to be precise]. At press time, the coin was seen trading at $0.000000000134.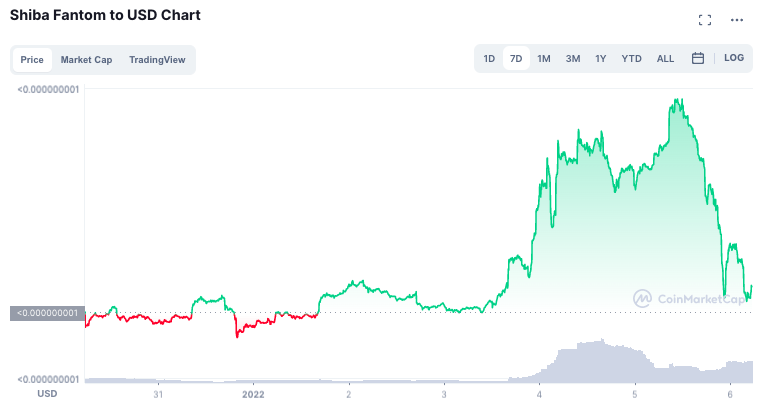 Shiba Fantom started 2022 on a low note, but gradually managed to pick up pace over the next couple of days. In the period between 4 and 5 January, SHIBA rallied massively, but with yesterday's dip, the gains had almost nullified.
Decrypting SHIBA's Tokenomics
SHIBA started off its crypto journey with a total of 100,000,000,000,000,000 tokens. As per their website, 50% of the total supply has already been burnt. SHIBA, additionally, rewards HODLers, using the transaction tax, by directly dropping tokens into their wallets every time someone buys or sells.
Further, as per its website, its transaction speed is 'extremely fast' and the gas fee is 'extremely cheap' [<$0.001].
Having launched in May '21, this project is still in its infant stage. It intends to complete DEX listings in the near future. It also aspires to up its game in the NFT space. Its social footprint has, however, started gaining pace already. For a coin ranked 4510 on CMC, the below-mentioned numbers provide some sort of credence of its legitimacy.

In fact, TimeChain – a financial and trading tool providing platform has already started aggregating liquidity from Shiba Fantom – another noteworthy development.
Concluding words
SHIBA has been harnessing the power of Fantom's blockchain technology since its inception. In effect, this coin has been mirroring FTM's movements on its price chart. When Fantom's price chart attached below is compared to SHIBA's chart attached above, the congruence would become much more evident. Both the coins created their local highs at almost the same time yesterday. And now after the dip, Fantom has already started exhibiting signs of a recovery.
So, if FTM manages to breach the broader market downtrend and continues to make its uptrend even more concrete, then SHIBA in most likelihood would climb up alongside.