Meta's stock has been thriving since the beginning of this year. Trading at the brink of $300, META has fetched investors 134% already year to date. In fact, from its 2022 Q4 low of $88.09, the stock is up 228%.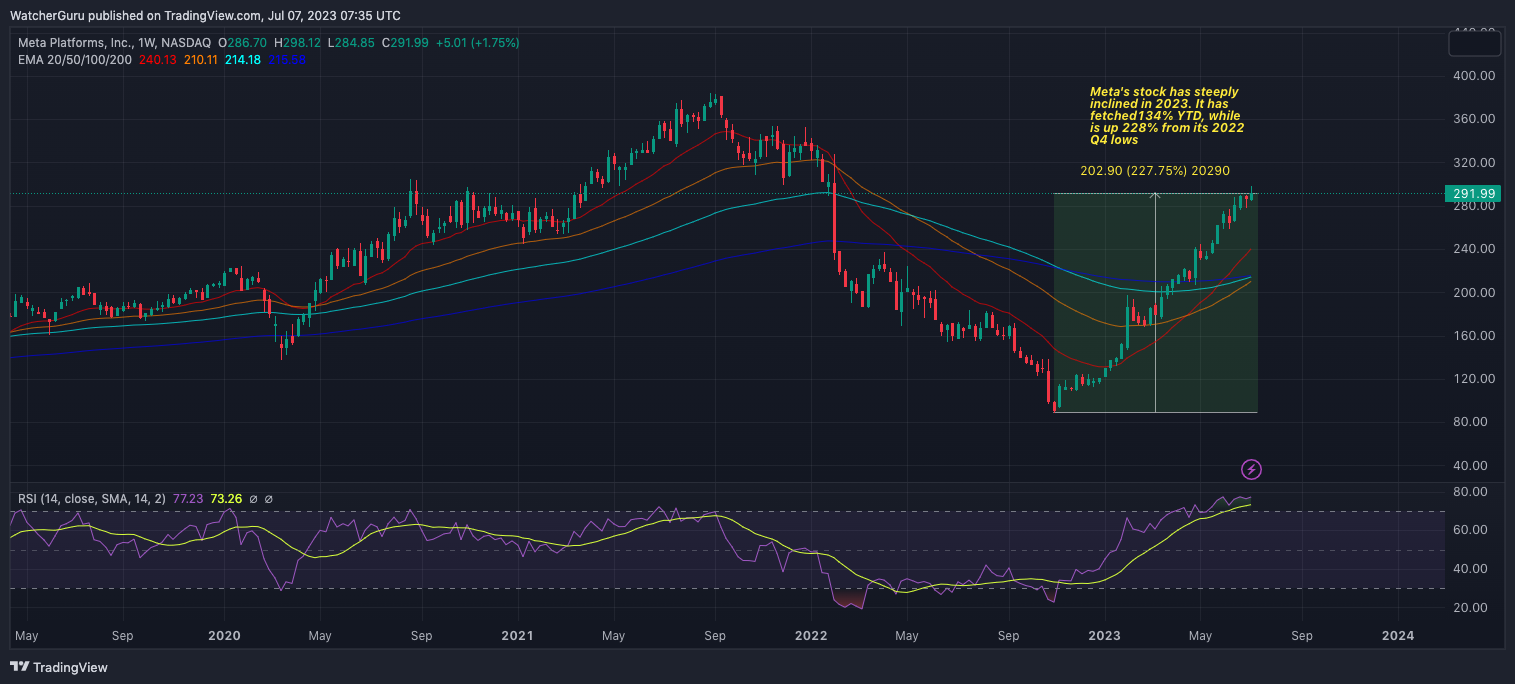 Also Read: AI Can Transfer, Hold Bitcoin Using Lightning Labs' New Tools
The Musk-Zuckerberg Tussle
The company recently introduced Threads, a new app built by the Instagram team, for sharing text updates. According to Meta, the platform garnered five million users in just four hours, and 10 million within seven hours. The Verge's Alex Heath stated in a Threads post recently that the number crossed 48 million sign-ups already, according to internal data shared with him. Right after, another user posted a screenshot highlighting that the number now stands well above 50 million.
Even though Threads has been able to successfully garner mainstream traction in just a day, Mark Zuckerberg might need to keep his horses ready. A few hours back, Twitter threatened to sue Meta over its Threads app. As reported recently, Twitter alleged Meta and Zuckerberg engaged in "systematic, willful, and unlawful misappropriation of Twitter's trade secrets and other intellectual property." Furthermore, Elon Musk outrightly called out Zuckerberg on Twitter for copy-pasting. He asserted,
"Competition is fine, cheating is not."
THREADS Token Launched to Kill Twitter
Meta's stock has not explicitly reacted to the development. It shrunk down in value by merely 0.8% a day back, while during the pre-market hours today, it traded another 0.8% lower. Taking advantage of the hype, however, several Threads tokens have started floating around in the market. However, liquidity remains to be scarce, an outright red flag. While a few pairs have risen by as much as 4800% in just a day, there was one pair that ended up shedding around 93% in the same timeframe. However, their price was not exactly static and noted significant fluctuations while writing.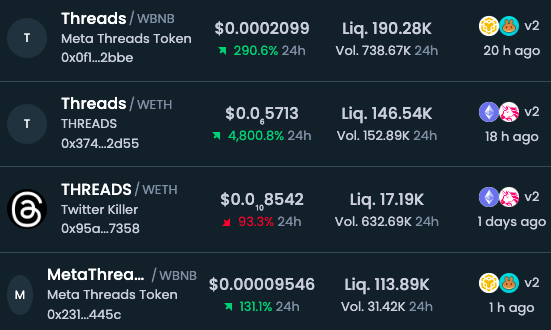 Threads/USD pair's uptrend was visible on the chart. From yesterday's low of $0.0000000117, the token was seen trading with one zero less at press time, at $0.0000005409. The same translated to a rise of 4523%.

THREADS/USD, on the other hand, created a peak at $0.00000000244 yesterday. However, at press time, it was trading with two additional zeros at $0.0000000000596, losing close to 98% of its value. This particular project claims to be community-driven, and is dubbed to be 'The Twitter Killer.' Well, looking at the latest price actions, seems like the token got dismantled, before even attempting to 'kill' Twitter.

Also Read: Crypto Volume on Binance, Coinbase Dips 50%-70%