What is a Metaverse Token, and how does it work?
Metaverses are vast universes that users may enter using a computer or virtual reality headset, allowing them to work and play in a virtual world. They require a currency to become completely immersive worlds with their economies properly( Metaverse Token), and that's where crypto comes in.
You can purchase them through the virtual universe's in-game marketplace. Similarly, you can use the coins to buy in-game items like land or other items, which players can swap.
1. Decentraland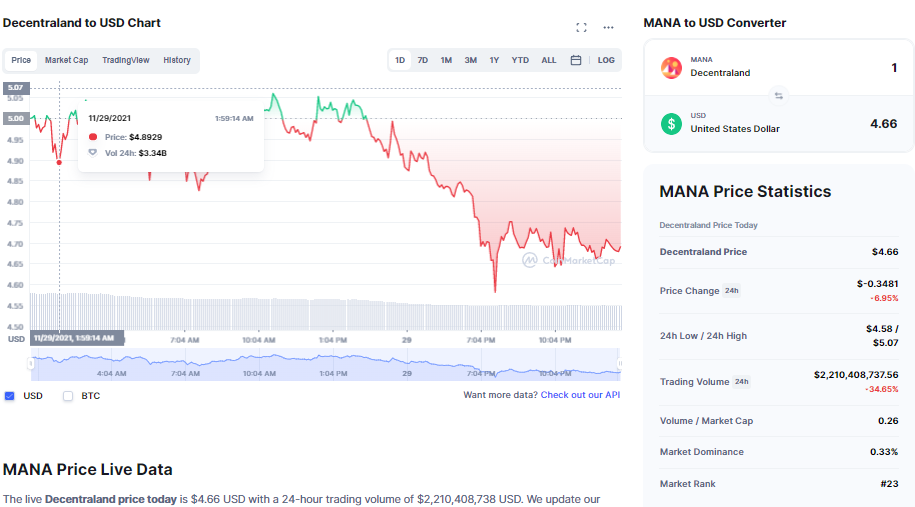 Firstly, at No. 23 on the list of the most popular cryptocurrencies, Decentraland (CRYPTO: MANA). It has a market cap of $8.5 billion and about 1.8 billion tokens in circulation.
Decentraland, like Axie Infinity, is also a virtual reality platform based on the Ethereum blockchain. The Metaverse is a virtual realm within Decentraland separated into 90,601 parcels of land; each of which is an NFT. Users have complete control over how they build and commercialize their parcels.
MANA is Decentraland's native cryptocurrency. Land parcels (LAND tokens), avatars, clothing, and other products can be purchased on the platform's marketplace.
MANA's price has increased by 175% in the last year with the biggest spike coming up from the month of October.
2. Axie Infinity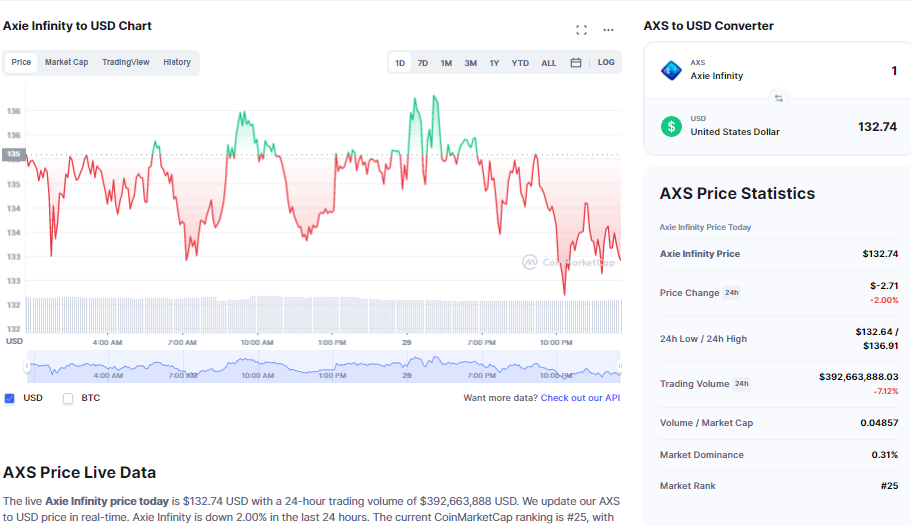 According to CoinMarketCap, Axie Infinity (CRYPTO: AXS) is the 25th most valuable cryptocurrency. With 60.9 tokens in circulation, it has a market capitalization of $8 billion.
Axie Infinity is a battle game based on the Ethereum blockchain-inspired by the ancient Japanese video game Pokémon and the Tamagotchi digital pets. Moreover, players can raise, trade, and battle creatures known as "Axies," non-fungible tokens (NFTs). You can also make up axies from 500 different bodily components. They can breed with other Axies up to seven times to produce fresh progeny sold on the gaming platform.
Additionally, this cryptocurrency has soared more than 29,700% in the previous 12 months. However, it hasn't done as well in recent weeks, with only minor gains.
3. The Sandbox
Lastly, there is Sandbox. In many ways, the Sandbox is akin to Decentraland and it's also an Ethereum-based decentralized virtual world. Currently, Sandbox (CRYPTO: SAND) ranks at No. 39 in the cryptocurrency market, with a market cap of $6.1 billion and approximately 892 million tokens in circulation blockchain. It allows users to buy and sell NFT land parcels that they may develop and monetize and create games that other users can play.
SAND is the utility token for the Sandbox ecosystem. The token's maximum supply has been set at 3 billion. Players use SAND to acquire digital assets, play virtual world games, and engage in decentralized government.
Over the last 12 months, the Sandbox has increased by more than 10,300%. SAND, like Decentraland, has been a significant winner since late October, with the token increasing in value by more than 6X.
Conclusion
To summarize, cryptocurrencies and decentralized financial tokens are extremely volatile, which means your money could suddenly rise and fall. In addition, some cryptocurrency products and services are pretty difficult to comprehend. However our list of Metaverse tokens above should help you when making your call. But note that it is important that you do more research before making your investment.