As cryptocurrency markets begin to recover, the price of Metaverse coins continues to rise. Today's top gainers include Vulcan Forged PYR, CEEK VR, LUKSO, Decentral Games, and GameCredits.
Below we shall be discussing some of the metaverse coins that are gaining the most price today.
Metaverse Coins Gaining Most Price Today
1. Gamecredits (Game) – $6.67 -(96.5%)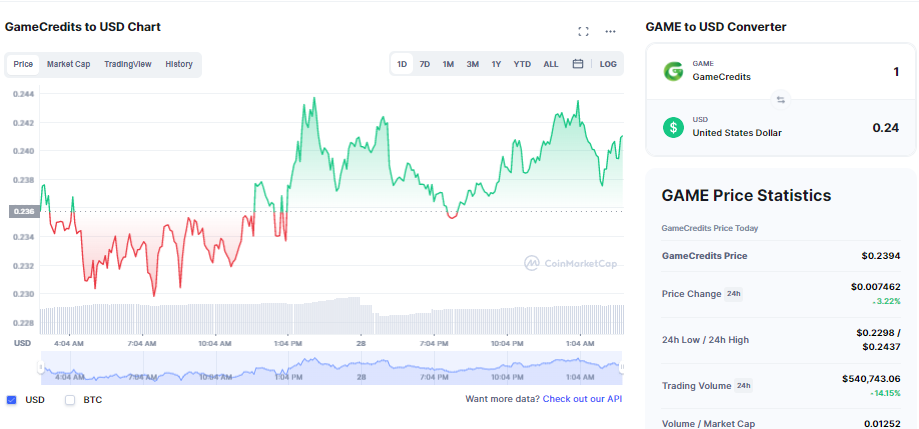 GAME Credits, founded in 2014, is creating a decentralized Metaverse game with the help of its creator community. It includes a fully decentralized autonomous governance system powered by Polygon and secured by the Ethereum blockchain.
Game Credits has moreover stood the test of time and continues to innovate as pioneers in the cryptocurrency gaming sector.
GC has two distinct tokens: GAME and GENESIS. GAME is the ecosystem's native cryptocurrency, and GENESIS powers the Play-to-Earn economy.
The official GAME Credits Twitter account recently announced a Demo Day for their collection of crypto games. The demonstration will however be streamed live on YouTube.
GAME's price is $0.232466 with a 24-hour trading volume of $215,312. GAME price is up 1.0% in the last 24 hours.
GAME Credits has been on a tear throughout November, reaching a high of $0.26 at the start of the month.
2. Decentral Games (DG) $618.06 (+9.27%)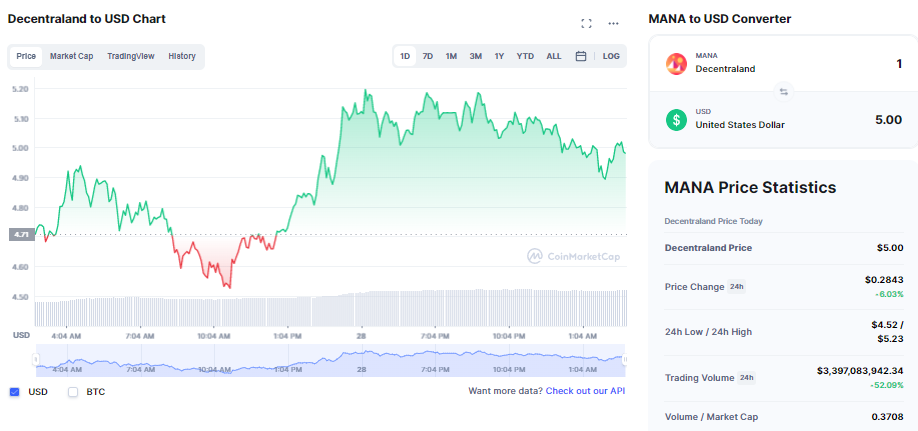 Decentral Games is a Decentraland-based virtual Play-to-Earn casino. It offers a wide range of popular casino games such as Poker, Blackjack, and Roulette.
Because the game is entirely hosted on the blockchain, there is no need for you to relinquish control of your funds. Furthermore, Decentral Games has a fantastic NFT collection that allows users to personalize their characters.
The Beta is now available for download, and users can begin playing right away. To participate in the game, go to the official Decentraland Games hub.
According to OpenSea's recent ICE Wearable sales, the average NFT sold for around $3,800. This is a significant investment, demonstrating the level of interest in Decentraland and Decentral Games.
DG is currently trading at $618.06, up 9.27% in the last 24 hours. Decentraland's price has additionally been performing well today, which amplifies DG's price increase significantly.
3. Lukso (LYXE) – $19.61 (Up3.50%%)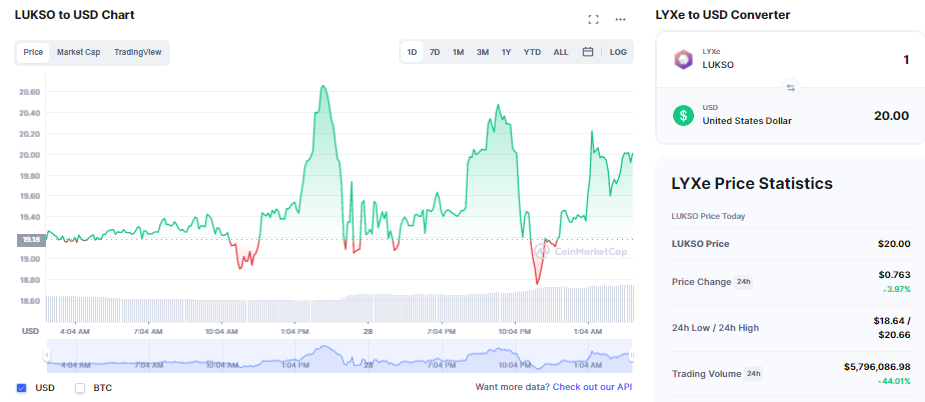 LUKSO is a blockchain platform that offers physical and digital consumer goods solutions.
LUKSO's team is creating a Multiverse, which defines a new digital ecosystem that combines fashion, gaming, design, and social media into a next-generation virtual experience.
The LUKSO blockchain's native token uses LYX to pay transaction fees and secure the network. The Ethereum version of the LYX token is known as LYXe. Both tokens represent the same asset, but they are on different blockchains.
4. CEEK VR (CEEK) – $1.04 (+18.71% )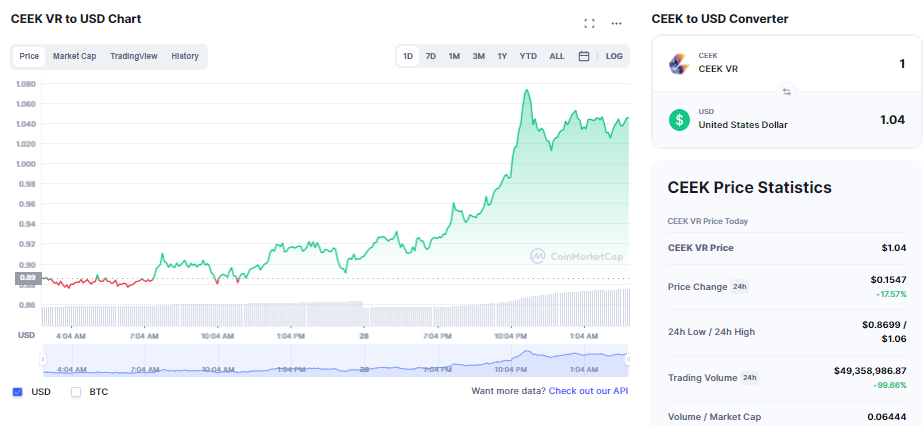 CEEK VR aspires to be the future of music streaming and publication. It comes with a patented VR headset, which is currently available at major retailers such as Best Buy and Target. Lady Gaga, Demi Lovato, Ziggy Marley, and other artists can be found in CEEK VR.
CEEK VR appeared on The Ellen Show on November 23rd, showcasing the brand new VR headset and 4D headphones. Furthermore, as part of the promotion, each audience member received a VR headset and CEEK headphones.
CEEK is currently trading at $1.69, up 18.71%  in the last 24 hours. It has a total supply of 1 billion, with 739 million in circulation. You can purchase CEEK on MEXC, PancakeSwap, Bancor Network, ProBitGlobal, and other exchanges.
5.Vulcan Forged (PYR) – $39.97 (Up 11.09%)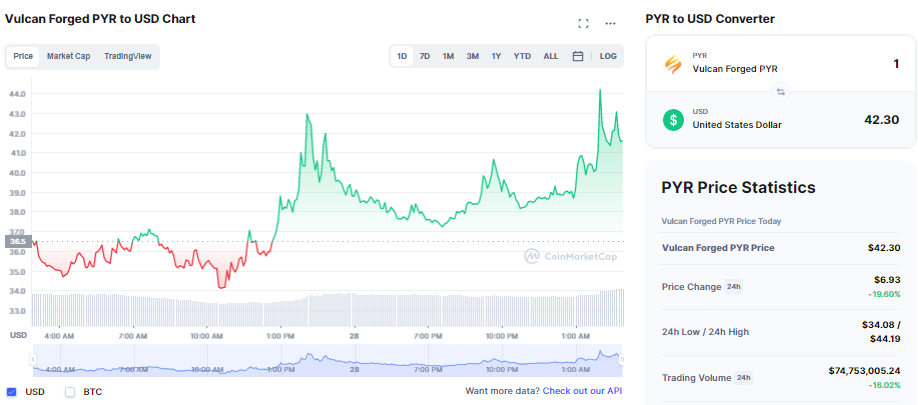 Vulcan Forged PYR, a blockchain game studio and NFT marketplace, is today's top Metaverse coin. Users can however use Vulcan Forged to play, build, collaborate, earn money, and bring their ideas to life. PYR is the most rapidly expanding blockchain game and dApp platform.
YR is currently trading at $39.97, more than an 11 % gain in the last 24 hours. The total supply of PYR is 50 million, with 18.9 million in circulation. PYR can moreover be purchased on various platforms, including KuCoin, Gate.io, Uniswap, Bittrex, and others.
Get Your Metaverse Coin
As of today, the above cryptos are the ones that one should be on the lookout for. Moreover, it's always important to research as cryptocurrencies keep rising and falling now and then.